This exclusive, adults-only resort consisting of just 8 luxury suites really is something else. It is rare that the reality of a place is more gorgeous than the photos, but just actually being there in the moment is breath-taking, to the point that you'll want life to slow right down so you can stay forever.
Ok I am probably being dramatic, but seriously, this place is what the young folk/Millennials would call "#goals".
Unsurprisingly the journey up there was an adventure, but as we'd learnt here and here  the drive would certainly be worth it. Luckily we decided to make full use of the private shuttle service, for which our tiny rental was surely grateful.
When the dusty roads, sweeping turns, comical bumps and almost vertical inclines levelled out to a huge dark gate, we couldn't have been prepared for lay beyond.
Sitting amongst the hawks in flight, high above the jungle with 360 degree views overlooking Uvita and the Marino Ballena National Park, Kura Design Villas is as impressive as it is glamorous. This modern oasis seamlessly blended industrial chic with the native plants and gardens of the jungle.
Sustainable Travel is high on our agenda and somehow Kura Design Villas have done the impossible; creating an eco-friendly, high end and romantic property where luxury really doesn't have to cost the earth.
They have already removed single use plastics , long before David Attenborough brought the issue into the limelight, offering guests reusable water bottles and bamboo straws as alternatives. They have their own organic garden greenhouse and Japanese Takakura compositing system to help supply their Ocean-View restaurant and Diablitos Bar & Lounge, the salt-water infinity pool and their solar panels heat the water, as well as supporting the local community and conserving their natural surroundings. Sounds too good to be true, but its not.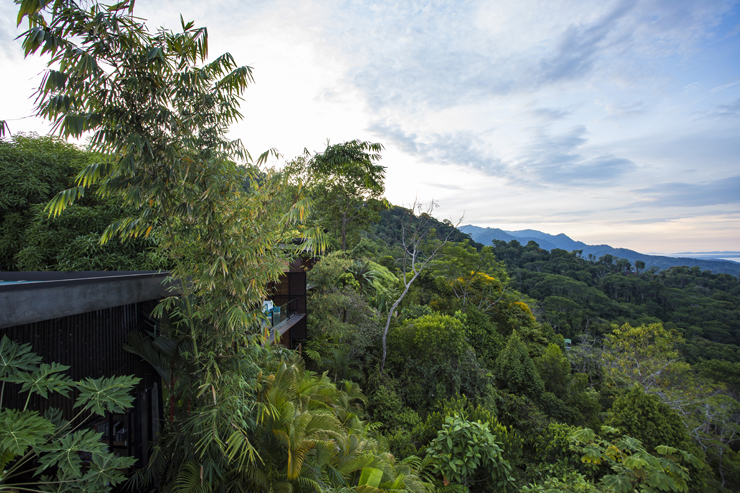 From our glass-fronted suite with a generous balcony, it felt as if we were the only people on the earth. The double rain showers open right out to the view and the main bar and pool area are a key focus for this resort. I have never seen or experienced a more well designed or featured space – the infinity pool is an instagrammers dream.
Most importantly – Does the hotel and room do what it's supposed to do?
If you are looking for ultimate privacy, romance and luxury then Kura Design Villas absolutely deliver! Not only does the minimalist style look great, everything is functional to ensure you aren't left with the clutter of suitcases that you keep tripping over in the night as you try to find your way to the bathroom (just me?).
The resort has only 8 suites, which means there are only 8 tables in the restaurant, 8 double sun loungers around the pool and only the food required for 8 people is ordered so nothing goes to waste. Kura Design Villas has been designed down to every last subtle detail with the definitive goal of providing a luxurious retreat in the heart of nature.
How did we rate the experience before we stepped into the room?
The ride in the 4×4 to the resort was certainly bumpy, but since we didn't have to navigate it on our own and were met by their driver, it was carefree and easy. Check in was seamless and our luggage awaited us in our suite.
Does it cover the basic needs?
Breakfast – a delectable menu was offered to choose from including deliciously fresh Gallo Pinto and local fruits
Comfy bed – I've never experienced waking up from a restful nights sleep to such incredible views from my super king-sized bed
Decent towels – giant, soft towels
Fridge – yes
Good pillows – super soft and fluffy
Parking – yes, although we'd recommend their private shuttle service
Safe – yes
Shower with decent water pressure – yes, a huge open waterfall shower – getting close to nature has never been so luxurious
Wifi – yes
What makes your stay feel special?
Just being in the resort, the incredible views from the infinity pool – which is open all day so you can sip your cocktail overlooking the beach as the sun goes down, from the edge of the infinity pool.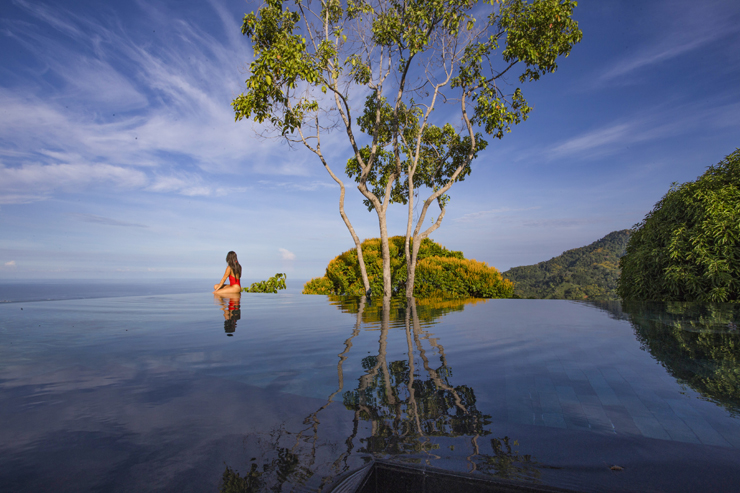 In your room you have a selection of local wines and even some binoculars and bird books to help you spot the local wildlife.
We took advantage of the open air Spa Shà and the'Kurà Classics' 90 minute massage. I visited after the at sunset as the rainforest was coming alive and the thunder storm in the distance rumbled on. There was no relaxing music; nature and the thunder's rhythm was the soothing soundtrack to this heavenly massage. Pura Vida has never been so real. You can read all about this thunderstorm of an experience here.
Hotel food?
As I mentioned before, there is only the need to cater for a maximum of 8 people at a time, so the menu isn't extensive (and neither should it be when considering the potential waste) but offers a variety of salads, fish and meats.
We ordered a burger which was the prefect remedy to sate our hunger from swimming and lounging all day.
Biggest issue?
Having to leave.
Best extras included?
The unbelievable views and infinity pool. The spacious balcony (more like terrace) and the open showers (so liberating). The friendly staff (free bachata dance lesson anyone?) …I think I'm making my point.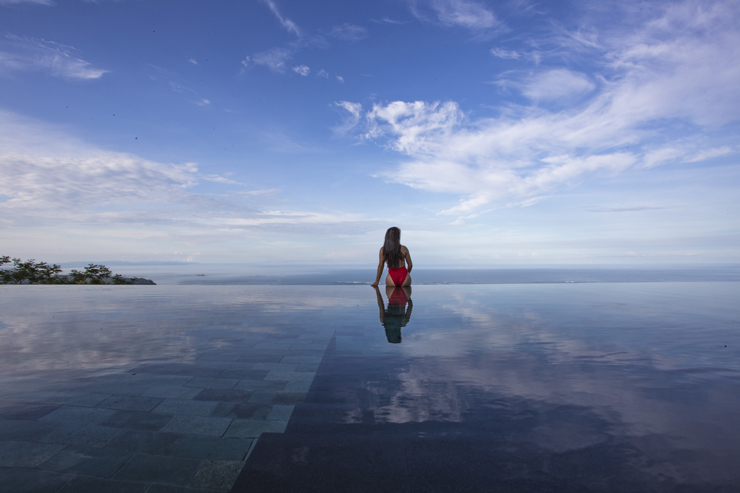 Overall impression
If you're ever in Costa Rica, Kura Design Villas should be top of your list, especially if travelling with your SO, as the candle lit turn down of your room is gorgeous, or traveling with friends its still incredible. It is the perfect place to disconnect from the online world – there is wifi, but you'll be too busy admiring the views from the infinity pool, gently rocking in your hammock enjoying a cocktail or showering with the door open to remember to check your social media.
If you'd like to find out more or book with Kura Design Villas, check out their website here.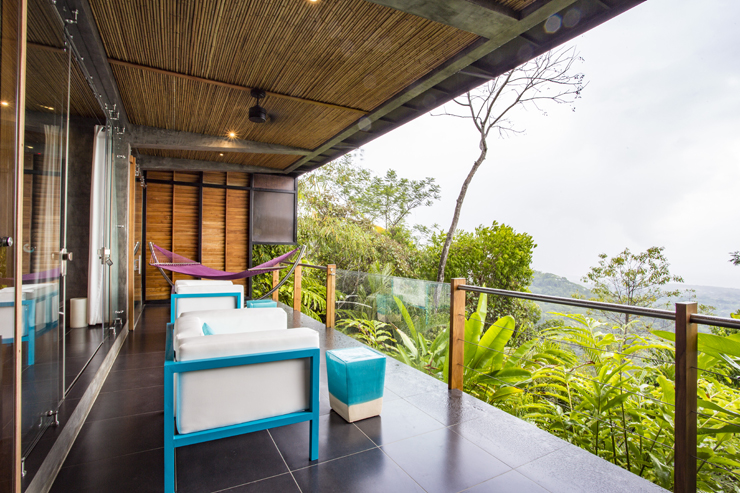 A huge thank you to Kura Design Villas and The Cayuga Collection for hosting our stay, however our views are utterly honest and our own. We would never endorse something that we don't believe in.
Explore the rest of our itinerary in Costa Rica here.
Last modified: 13th July 2018