With everything going on in the world with Covid-19 and lockdown there doesn't seem to be a good time to post. But as we are almost at the end of our pregnancy I thought it was time to share our incredible experience, otherwise we'd completely miss it!
You can read more about how we chose, organised and booked our Babymoon here.
Itinerary
Day 1: London > Johannesburg > Port Elizabeth
After landing into Port Elizabeth we hired a car from the airport and drove to Valley Bushveld Country Lodge.
We arrived as the sun was going down and were welcomed to the lodge by a tower of giraffes, a dazzle of zebras and other animals inside the lodge gates. We weren't expecting a self-drive safari inside our B&B grounds, so what a way to start the safari holiday!
Day 2 – Addo Elephant National Park
We spent the day self-driving around Addo Elephant National Park spotting animals and swerving around elephant poo and dung beetles – they have right of way! As the park name suggests, we saw lots of majestic elephants and some even walked right past our car! We did find a lion but he was too far away to get a good look.
Day 3 – Pool day & Daniell Cheetah Project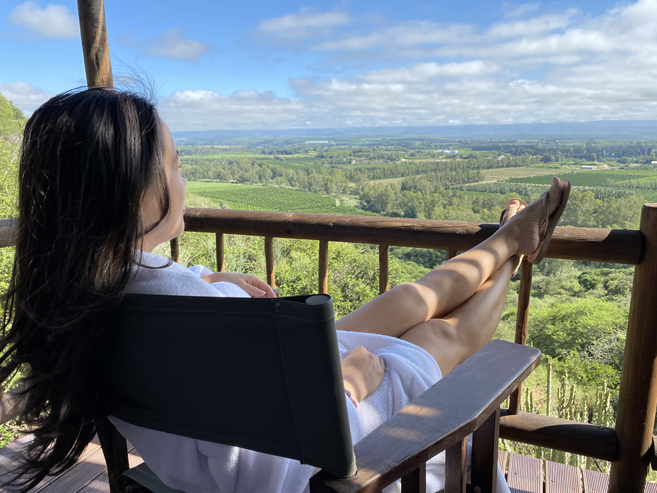 Our leisurely morning started with a much needed lie in, an outdoor shower and then some pool time (and naps) overlooking the beautiful valley below at Hitgeiem Country Lodge.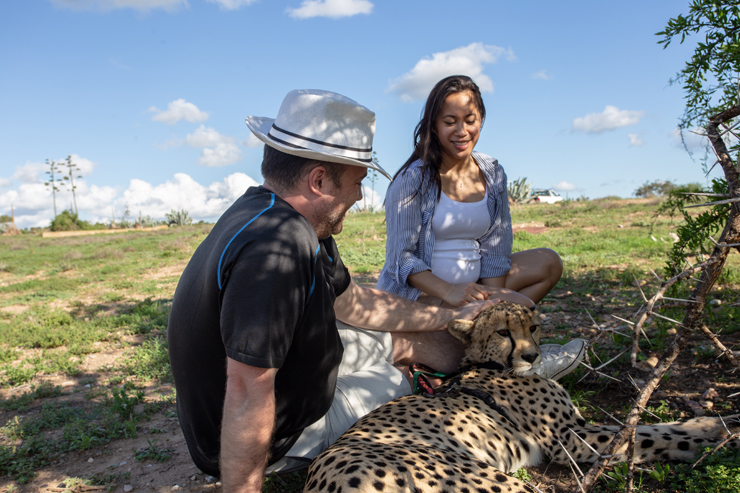 We made our way to Daniell Cheetah Project, a conservation project dedicated to diversifying and strengthening the cheetah genes and population. We learnt about the project, cheetahs and other big cats before going on a walk in the African bush with brothers Thor and Amari. These walks provide exercise and "an exciting outing and enrichment for the cheetahs." The temperature was especially hot so we actually sat under an acacia tree listening to them purr for most of the time.
Next we drove to Mossel Bay to the Protea Hotel and stopped around 10pm for dinner at random grill house en route.
Day 4 – Mossel Bay
We were excited to get to the beach, so after a yummy brunch at Kaai 4 overlooking the turquoise waters we spent some time floating in the ocean and watching the jumping fish.
Tim had booked the accommodation that night as a surprise, somehow he had managed to book the dreamy Gondwana Private Game Reserve (there was no availability when I tried a few weeks previously and was my biggest regret of the trip). He'd seen there was a last minute cancelation (see our post on how we booked our Babymoon for more details) and we ended up staying in a ridiculous, exclusive 3 bedroom villa.

For our first non-self drive safari of the trip, we headed out on a sundowner with Head Game Driver, Mike and a couple of other guests. There was such a rich variety of animals including giraffe, elephants and rhino, then finished the evening with a 3 course meal, (non alcoholic) sparkling wine and our choice of 3 beds!
Day 5 – Gondwana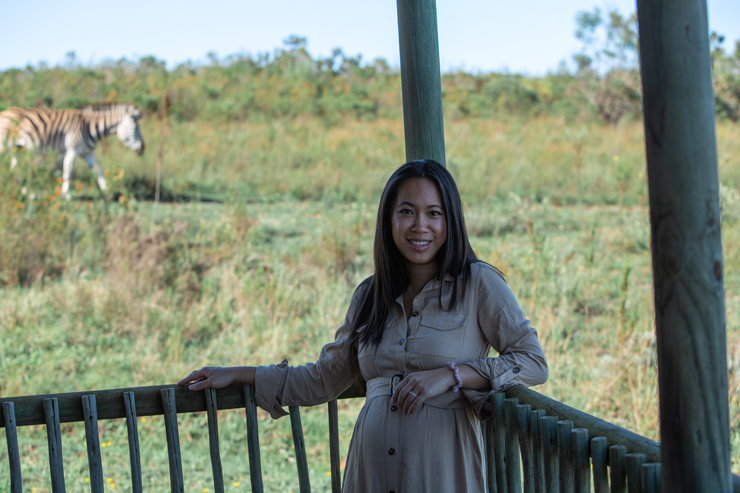 It's was such a treat to wake up to some zebra grazing outside our window, we felt really immersed in the wildlife at Gondwana.

After breakfast and another game drive, we settled by the pool for the afternoon. This marked the end of the Safari part of our Garden Route adventure.
We drove the rest of the pretty Garden Route towards Cape Town and arrived at Villa Elner just in time for a power cut, so we went in search of somewhere still open and found Old MacDaddy's Barn for dinner.
Day 6 – the day of no real plan
After a well deserved lay in, we decided to explore the outer regions of Cape Town. We drove to Tokara Winery for lunch (I was gutted not to be able to sample all the local wines), cruised along Chapman's Peak Drive one of the most beautiful (and windy) passes in the world and watched the paragliders at sunset over Witsand Bay. As darkness settled we found a small Italian, Satori in Satori, nestled in Kauk Bay for dinner.
Day 7 – Penguins and Cape Town

I never knew that 'sea clouds' were a thing, until we passed through one on our scenic coastal drive into Cape Town, via Stony Point to visit the penguins. Here we walked the board walk reading about the penguin colony before grabbing an ice cream and continuing on to Cape Town.
The drive was smooth and Tim had identified which peak was Table Mountain (I was napping) until we found ourselves in the middle of a protest where people were burning tires the shanty town we were driving through, so we turned round and found a different way!
We checked into Tinswala at Boulders Beach Boutique Villa, a beautiful, quiet property where you could sit on the balcony and watch the Boulders Beach penguins frolicking in the surf.
Now we couldn't come to Cape Town and not see any of Cape Town, so headed to the V&A Waterfront for a late lunch where we finally had braai!

We drove to Table Mountain for sunset and almost didn't make it as the last cable car went up at 7pm. They very generously held the last car and waited for us to park. The views from the top were the incredible, lose-yourself-in vistas of dreams. We stayed, taking it all in, until the very last car down. If we had more time (and I wasn't 5 months pregnant) we'd have loved to hike to the top or to Lion's Head peak.
Back at our villa we were greeted by this little guy (plus a few others) so we decided to go on a quick midnight search before bed for penguins. They were all just hanging out at Seaforth Beach, a short walk away.
Day 8 – Valentines Day
The day started with a sunrise amble down the penguin boardwalk and a quick swim in the sea before a ridiculous 3 course Valentines Day breakfast on the balcony.
We flew back to Johannesburg to finish off our trip exploring the game reserves of the north and booked a night at the Ritsako Game Lodge within the Dinokeng Game Reserve, north of Pretoria. After chilling (and napping) at the pool we took part in the organised Valentine's Day Meal.
Day 9 – Dinokeng and Welgevonden Game Reserve
Tim was excited to get back in the driver's seat on safari so we woke early for a spot of sunrise game viewing in the Dinokeng Game Reserve. This was also the morning that we discovered the epic Italian version of Toto's Africa! (I can't believe it took us this long to add it to our safari playlist).
Next we drove to Welgevonden Game Reserve where our guide collected us from the gate and drove us an hour through the bush to the secluded and private Mhondoro Safari Lodge. After a tour of the property (and underground passageway to the the watering hole) we were treated to a lovely, personalised lunch platter with alcohol free sparkling wine whilst watching the rhino roaming from our table.
Our guide Dwayne wanted to take us to "Serengeti plain" for sunset and we saw lots of rhino, rock springers, black back jackals, kudu, water bucks plus other 'plain game,' an elephant emerging out of the trees on the way back and found "Dinokeng" the lion after sun down.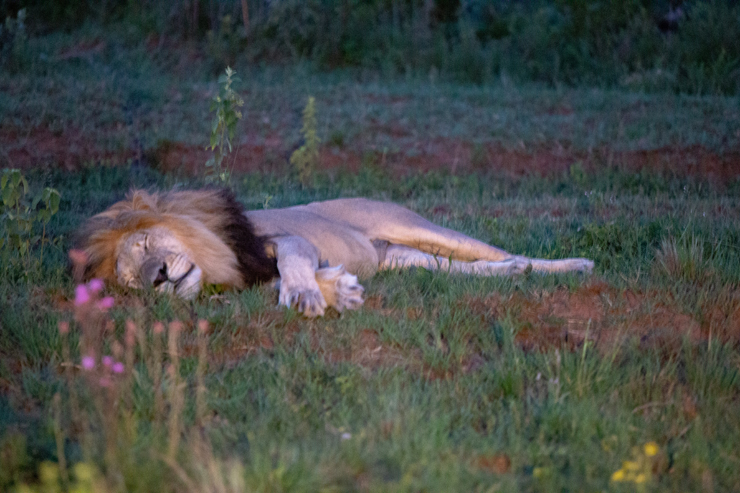 Dinner was a personalised 3 course meal which was the perfect way to round out our exciting day of exploring.
Day 10 – Pilanesberg
Another day, another sunrise to see! On our sunrise game drive we got stuck in an 'African traffic jam' (rhinos laying in the road) and watched two cubs playing under the watchful eye of the lionesses.
Our morning was then spent relaxing on our deck and having a hot soak in the outdoor tub before we were driven back to the main gate to collect our car.
From there we travelled to Pilanesberg and The Ivory Tree Game Lodge. Following the impeccable and very personal experience of Mhondoro, check in at The Ivory Tree felt a little like a production line, with friendly staff trying to make your arrival exciting, group inductions and a queue for the golf cart to take us and our luggage to our hut.
We joined the other 11 safari vehicles full of 8-10 people for light snacks and afternoon tea before boarding vehicle 11 with Garrett as our driver. There were no animals to see for a good 40 mins until we spotted some giraffe and then a while later some elephants. The sun downer was in a car park/rest stop where there were toilets and a look out point.

Dinner was in the Boma with a large central fire and each safari vehicle had their own table. Cauldrons of different food were lined up and a braai with beef and warthog (which was surprisingly good!!)
Day 11 – Homeward Bound
We settled in to catch some last rays down at the pool before making good use of the outdoor shower and a quick dip in the bath tub with a view before we flew home.
Thats a wrap on our South African Babymoon itinerary and kudos if you made it all the way to the end! For us it was a fantastic trip to spend time together and a great mix of adventure and relaxation.
Last modified: 3rd September 2020