A light breeze caressing your skin, the soothing sounds of the rainforest mingling with the gentle, rhythmic lapping of the waves, warm sand between your toes and not another soul in sight. 
We live for these lazy, sun-drenched days.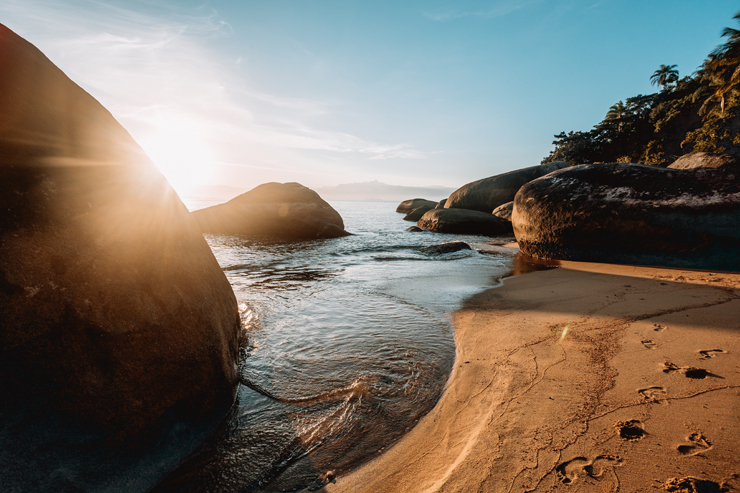 Like any newlywed couple following the hectic schedule of planning (and enjoying) our wedding, we went in search of somewhere to just …breathe.
Hidden away, lying sleepily off the shore of the state of Rio de Janeiro, Ilha Grande waits patently to quietly delight, impress and ultimately captivate you. So much so, you'll never want to leave. 
Ilha Grande (The Big Island)
Ilha Grande has been deemed one of the most beautiful islands in Brazil. A state park covering 193 square kilometres where rugged landscapes and luscious Atlantic rainforest meet scenic beaches and crystal clear waters. Cars are not permitted on the island so transport relies on boats and trekking through forest trails. You can walk around the whole island, but it would take around four days – it's not called 'The Big Island' for nothing.
Most people visit Abraão, the largest village on the island, however we were longing for something a little, well more 'deserted tropical island-esque' and the pristine Praia Vermelha (Red Beach) ticked all our boxes.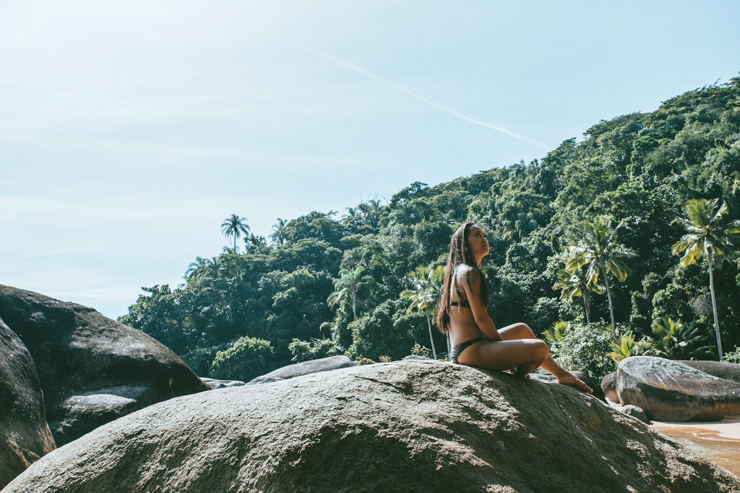 How to get to Ilha Grande:
We travelled via the Costa Verde bus for three hours from Rio de Janiero to Angra dos Reis. From there we caught a 5-minute Uber to Shopping Piratas, which opened out to the marina where we met our captain and host Riann, from Villa Pedra Mar. We travelled by speedboat direct to the magical Ilha Grande. If like us you aren't going to Abraão (where most of the ferries go), we'd recommend reaching our to your accommodation for help to arrange transfers. There are also many local speedboat taxis available for rent.
Where to Stay: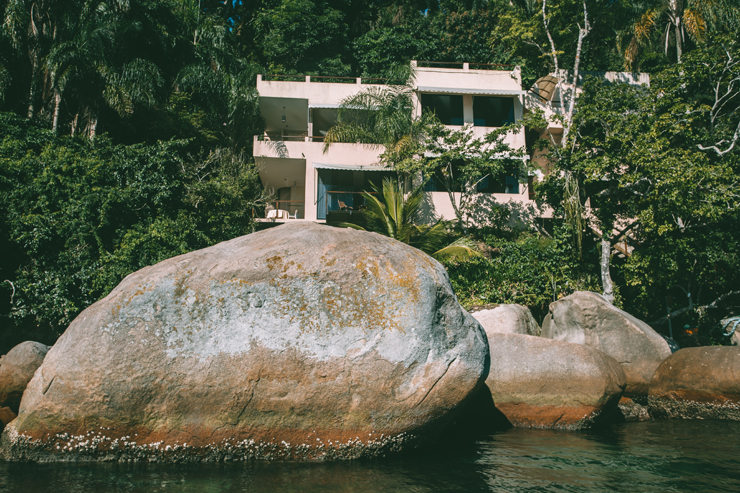 We chose Vila Pedra Mar, an exclusive island villa, which offered us the perfect location on Ilha Grande and provided a luxurious but personal experience right on the edge of the rainforest. 
With only three ocean view suites that overlook the ocean, you know your experience is going to be special. Each evening the owners invite you to come to the lounge area for traditional Caipirinhas (Brazil's national cocktail) or local wine whilst they cook dinner (who doesn't love a home cooked meal). It is a great way to learn about the local area and swap stories from your day or far off travels with fellow guests. We then dined on the rooftop deck under the stars by candlelight.
More to follow in our room review coming soon.
What to do:
As I may have hinted above, we chose this part of Ilha Grande specifically for the secluded location and unspoilt beaches to just relax and slow down.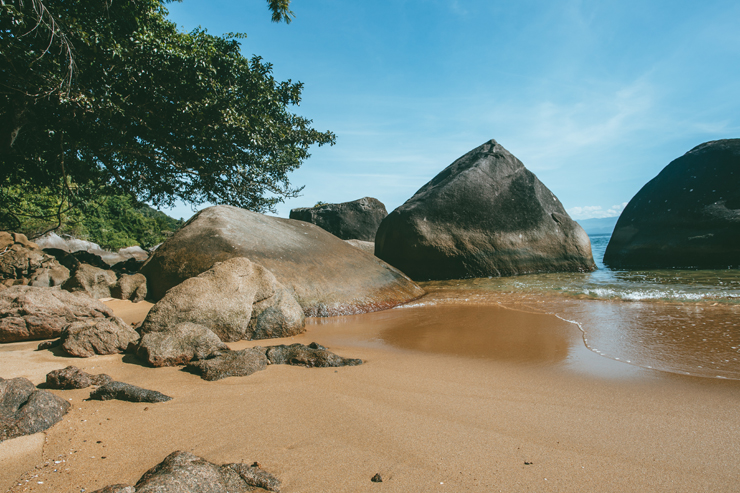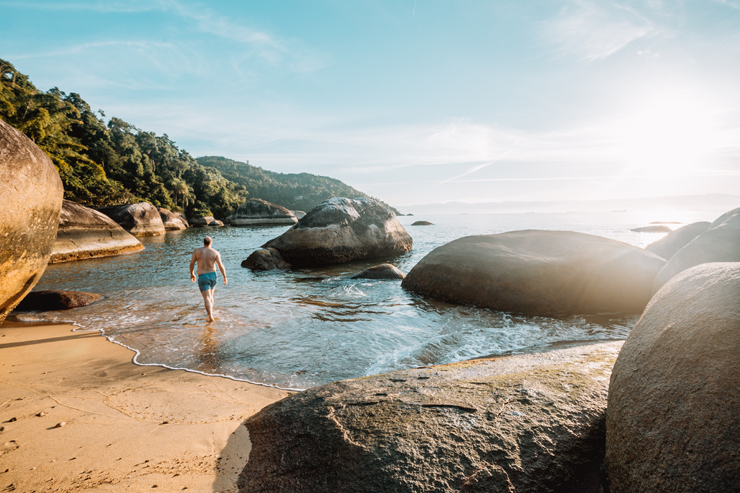 We spent most of our time at the small beach a short walk away where we found the home tree (I love Avatar) and where the light transformed the landscape as the sun started to set.
We also enjoyed lying on the private dock in front of the villa, periodically jumping into the sparkling waters to snorkel and cool off.
There is a lot more to do of course, you can trek around the island to various pristine beaches or rent a boat to explore the island and neighbouring islands. You can swim from the dock or walk to the adjacent beach where there are a couple of nice restaurants.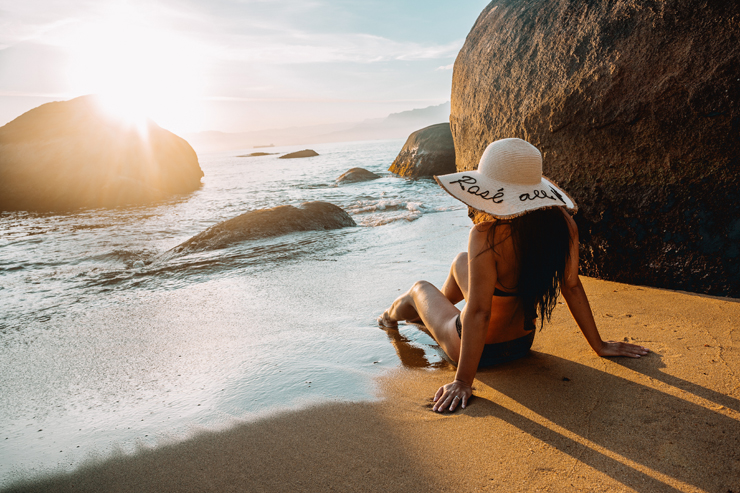 So for us, we consider paradise found.
Until next time Ilha Grande …and there will be a next time!
For more information about Vila Pedra Mar visit their website. We'd like to thank Karien and Riann at Vila Pedra Mar for hosting our stay. However our opinions are always honest and our own. 
Last modified: 6th August 2019