12:45pm on a Thursday afternoon. Most of my colleagues were our for lunch but a few still lingered at their desks. Do I make the phone call in public or sneak off to a meeting room for some privacy? If I did it in public I could be an office legend. However, if she says no then I could be a complete joke. I sneaked off to the stairwell.
Me: "Hi Rachel, I need you to stop working and pack a bag. We're going somewhere quite warm but it will be windy at one point. We're going for one night and you will want to be ready for your close up… so I have booked you into the hairdressers at 2pm and a manicure at 3pm. At 5pm a taxi will pick you up from the house to Gatwick airport where I'll meet you."
Rachel: "Ok… Sounds exciting!"
Me "Yes, it is".
______________________
Of course this is all so unnecessary.
Two weeks before we had a great trip to Estoniaplanned. Not a big trip, but I didn't want too many collaborations as I was planning on taking her to the top of Tallinn's Citadel to get down on one knee in front of one of Europe's most beautiful views.
I'd used my Estonian friends to make sure we had a sneaky photographer on hand to capture the moment and even entertained the idea of a flash mob BUT…
…The beast from the east hit Europe. The snowstorm arrived hard and the engagement ring got grounded in Dublin. I really wanted to propose to Rachel in Estonia, as it's the homeland of her beloved Granddad. Instead we spent the weekend in a romantic, personal and fairy-tale city exchanging passive aggressive comments about how amazing these places would be for a proposal.
Rachel: "this restaurant would be the perfect place for a proposal".
Me: "Yes. I know"
Rachel: "Apparently they do private dinning".
Me: "YES. I KNOW".
Rachel: "But don't get me wrong, this is really nice and romantic… it's just so cold!
Me: "Yes. Did you know it's so cold that all flights have been grounded out of Dublin for the last week?"
Rachel: "I didn't know that!"
Me: "I do".
______________________
The day after we got back from Estonia the ring arrived. I needed a new plan.
I'm a flight booking guru so refused to pay late flight prices so used a mixture of my traveller superpowers and flight points to book 2 return flights to Venice on a Thursday night for £55. 
______________________
Venice is important to us. It was our first ever holiday together back in June 2008. We decided to go away somewhere together, and scrambled to book a couple of cheap flights to Venice. The good news is that (mostly) it was the most amazing trip we'd been on.
The bad news is that we had no idea what we were doing and the trip was regularly perforated with problems. One such problem was that (unbeknown to us) nobody actually lives in Venice. For those not acquainted with Venice, all the locals live on the mainland and, in masses stream towards the train or boat station at 11pm to get the last train home. In Venice in 2008 this creates a weird romantic dilemma:
When the clock strikes 11 the city becomes incredibly quiet
Only the lovers and romantics are left to explore the city
It's pitch black and you can't see anything.
______________________
I met Rachel at Gatwick airport and after reaching the lounge she found out we were going to Venice. She gave me an excited and knowing smile when she said "We're going to Venice?" She must have known I was going to propose. 
Except that apparently, she didn't!
Our flight was delayed. We landed over an hour late at 10:35pm and the plans were in ruins. We needed to get to the Rialto Bridge before 11pm to avoid my proposal being just a question asked in the dark. I'd arranged a boat to take us from the airport to the Rialto Bridge but because of the delay the boat had gone ahead and we chased after it in a car.
Just before we reached the city the car pulled up by a small dock and we boarded our private boat. We quickly started sailing through the twisting canals of Venice, passing under increasingly impressive bridges as we approached the heart of the floating city.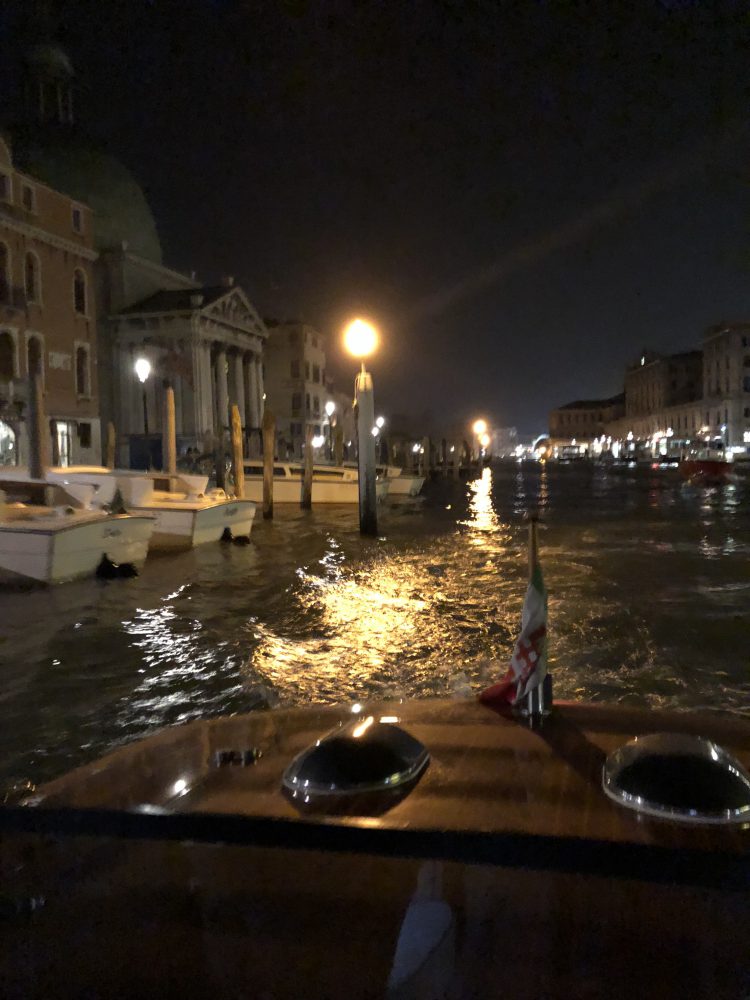 At that time of night we were the only people heading into the city. The public floating buses were all going the other way, taking the locals home and leaving us with the city to ourselves.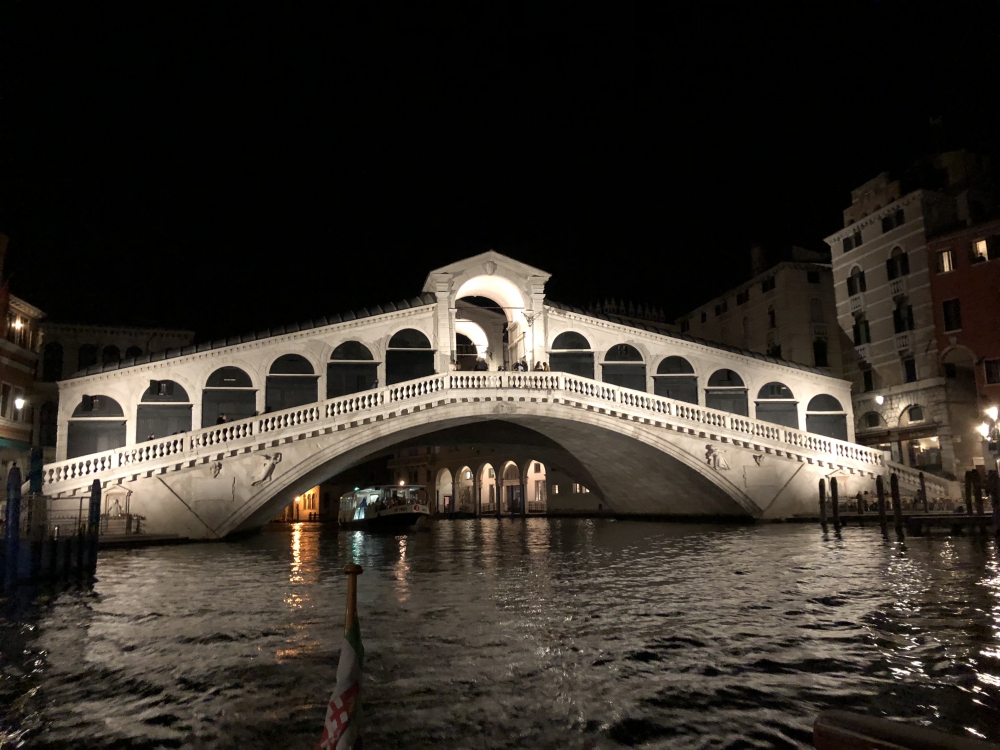 The clock struck eleven and to my relief the lights stayed on. I'd been so worried about getting there on time I suddenly realised I hadn't thought about what I was going to say. Suddenly the Rialto Bridge came into sight and I scrambled desperately for some words as the ring in my pocket burnt bright.
The good news is our boat captain decided to buy me a little more time by blazing straight past the bridge and then having to back the boat up when I asked him if we could "get a photo".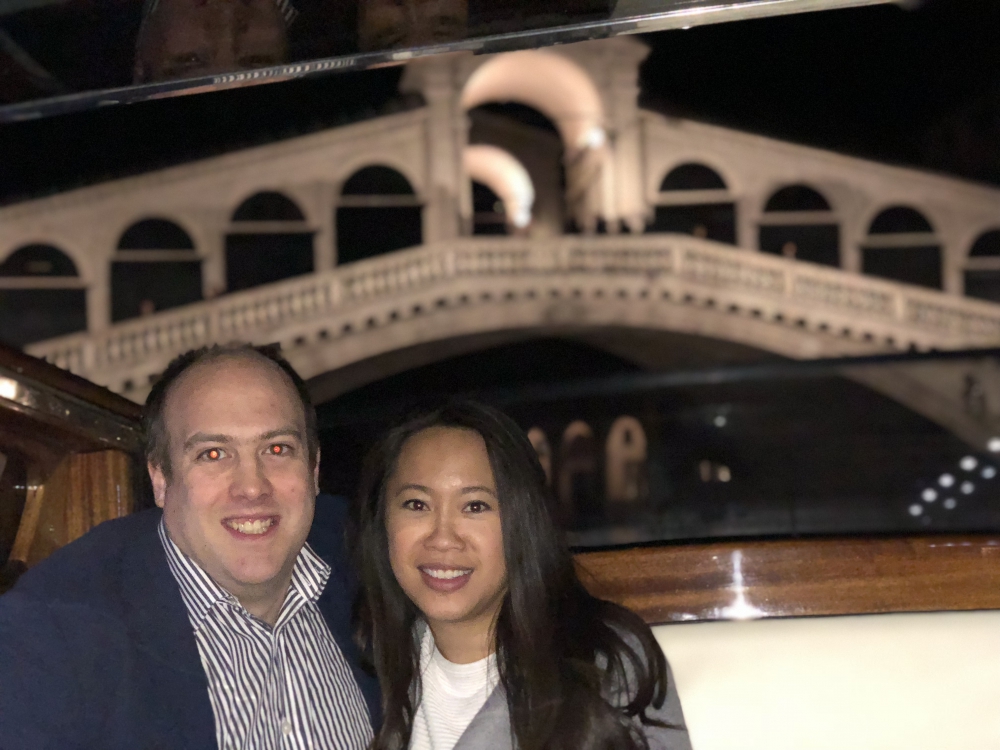 I got down on one knee and probably said something, but I have absolutely no idea what. Soon though a smile broke out over Rachel's face with the sound of "Yes". We kissed, we hugged and uncorked the bottle of prosecco that had magically appeared. 
The city was quiet and all our own. It was 11:30pm on a completely clear night. From the proposal to our eventual docking at our hotel we didn't see another soul or vessel. The Grand Canal, Bridge of Sighs, The Lido, the Santa Maria della Salute were all part of our private show.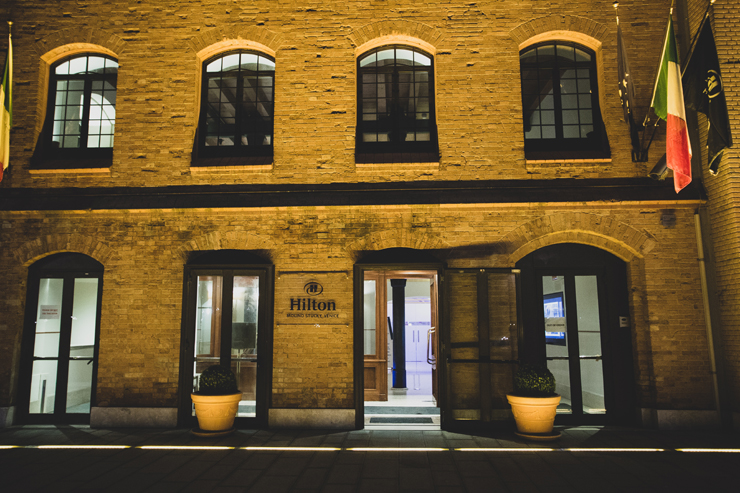 After taking in the sights, we headed towards the island of Giudecca and dropped anchor outside of our hotel. After giving a big thank you to our captain we headed inside and gave Venice back to the next lucky, romantic couple to enjoy.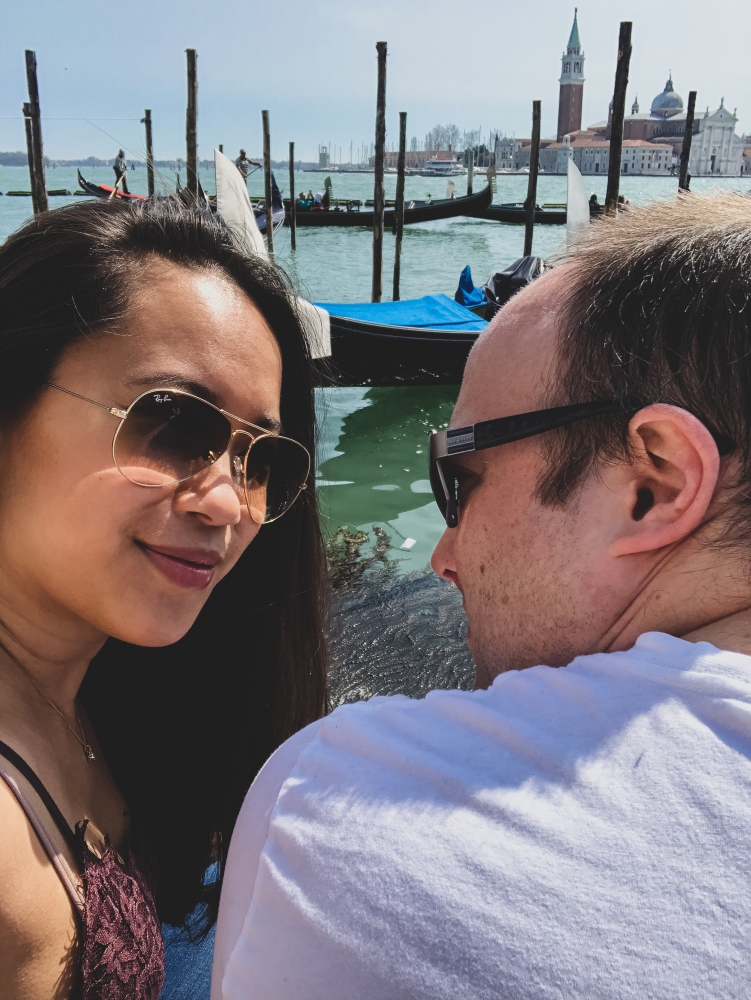 ______________________
We'd like to thank www.bookairporttransfers.com from the bottom of our hearts for collaborating with us to make this night incredibly special. They worked around our travel delays remaining extremely professional and invested in the experience for us. From the car transfer to the private boat, we were surrounded by luxury and in good hands.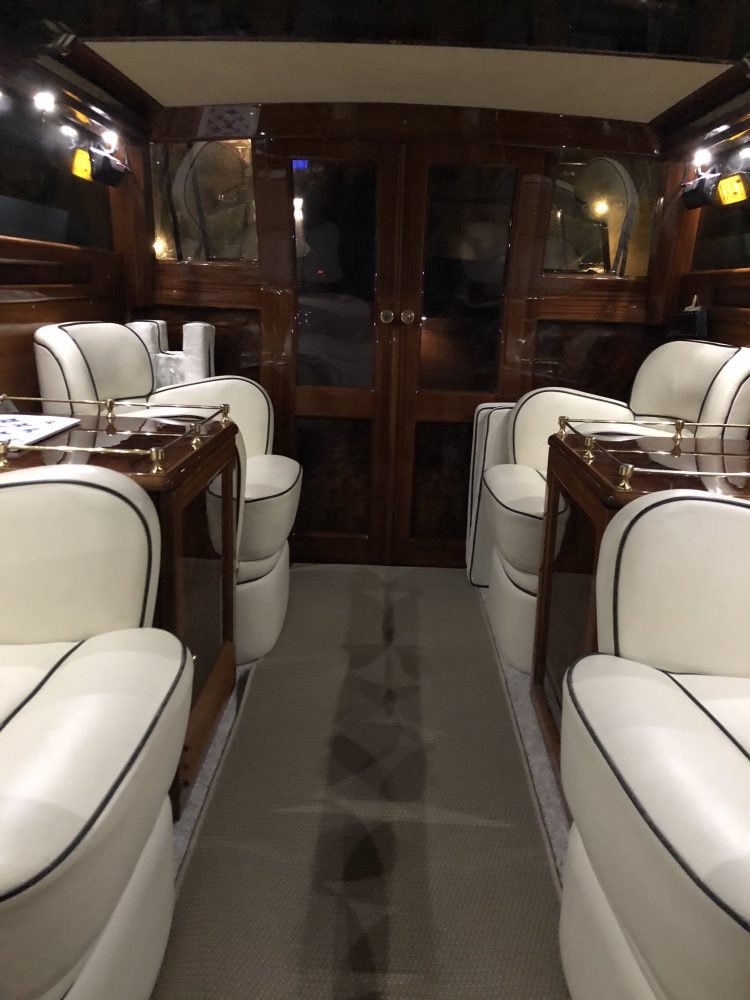 Although this was part of a collaboration our opinions are always honest and our own.
Last modified: 7th May 2019