I can't believe how fast this year has gone, it doesn't seem like 2 months since we set off on our Safari Adventure (http://www.theworldinaweekend.com/essential-africa-itinerary/). To celebrate this year anniversary I am penning a post covering all the things I wish I'd known whilst planning our trip to experience the heart of Africa.
Things to know about traveling in Africa:
The internal airline planes are small!
You can only travel with soft-sided luggage
We took two soft-sided weekend bags, my carry on bag and a camera rucksack.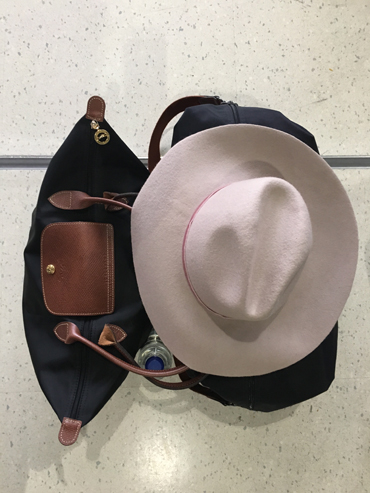 General tips
Stay away from the colour blue and other dark colours as they attract Tsetse flies whose bites are known to give you African sleeping sickness.
Use a high factor sun cream as you can spend long days in the sun
Always follow with a rich after sun to repair your skin over night
Take as much insect repellent as you can (minimum 50% DEET) – preventative measures are the best form of protection. When using sun cream apply the insect repellent last thing before you get dressed. You can pre-treat your clothes with insect repellent too.
We were warned to steer clear of whites as they get dusty fast, but we found it ok and there's always washing at your camp.
Wear breathable materials
Think in layers as the temperature can vary dramatically in a day
Take a sports bra if you need support, the roads on safari are bumpy!
Most camps offer washing services or facilities
Packing cubes saved our luggage from becoming a crazy mess and allowed us to keep our clean and dirty clothes separate.
Bring a microfibre towel. It dries quickly, folds up tightly and you never know when you might need it.
Dry shampoo – need I say more.
Bring extra ziplock bags, they're very handy for leaking toiletries, wet swimwear, etc.
Plastic bags to put shoes into to protect the rest of your clothes from the dust they will accumulate.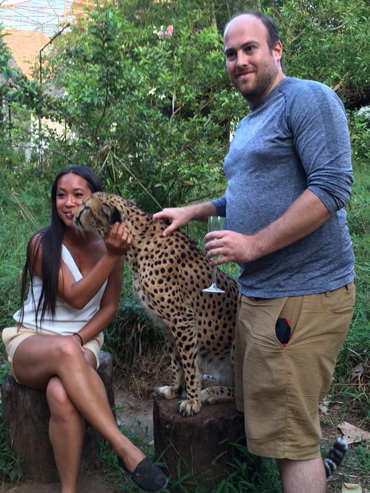 Packing Tips
Rolling items individually saves space instead of folding; it also creates fewer harsh creases.
We used a mixture of compression and normal packing cubes. These make re-packing quicker, it is easier to find the item you are looking for, they protect your clothes and it keeps your luggage tidier. You can take an extra one for all your dirty clothes to keep them separate, and then just hand in your packing cube to laundry at the camps rather than rummage around for those items. They are great for keeping your miscellaneous items organized – sunglasses, all your tech cables, etc.
Allocate your packing cubes to keep all tops together, all bottoms together to make it easier to find items.
Practice packing your bag – you'll have to do it so many times on the road it will become second nature, but before you set off, practice packing your bags to ensure you can still fit everything in. You might also find better ways to stack things.
Make sure you can carry your bags once packed and they are within the weight limit.
Lay the long items next to each other along the bottom of the bag (tripod/power strip).
Keep your toiletries/liquids towards to top to avoid putting pressure on them and risking spillages.
Layer your packing cubes from the biggest at the bottom and smallest on the top.
Underwear can be tricky to pack, use compression cubes or ziplock bags to reduce their bulk. We kept all of ours together (including swimwear) to reduce the number of cubes/bags.
Sandwich your breakables (binoculars, etc.) in-between them to keep them cushioned.
Wear your heaviest clothes to travel in, it gets chilly on the flights.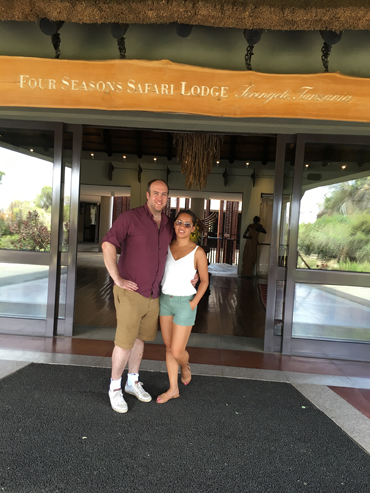 Now to get into what we actually took with us:
Camera bag:
Canon 6D
17-40mm lens
70-200mm lens
Canon EF 2x II Extender
Lee ND grad Filtersandcleaning cloth
Spare camera batteries and charger
External hard drive in a hard protective case to back up all our photos on the go
Additional memory cards
Laptop & charger
Tripod – take a quality tripod
Technology:
Phone & charger
Portable chargers – some camps don't have electricity in rooms, so you can charge these during the day in the mess tents and charge your valuables in your tent at night
Skyroam portable Wi-Fi – allowed us to stay connected, although it doesn't work in some countries including Tanzania
Binoculars – for spotting wildlife
Foldable day rucksack – having an extra day bag made all the difference, especially when you don't have time to neatly pack everything back into your hand luggage
Country power adapter
Power strip for charging everything at once
Toiletries – liquids
Insect repellent
Anthisan Bite & Sting Cream – you're going to get bitten, don't suffer more than you need to
Factor 50 sun cream – although we had to purchase more of this along the way
Shampoo
Conditioner – I used treatment mask since the dust and sun can really dry out your hair
Shower gel
Moisturiser/after sun
Toothpaste
Fragrance in a roller ball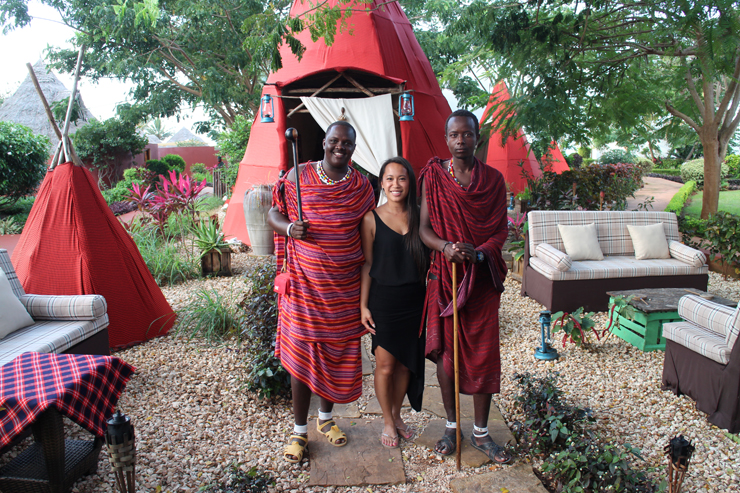 Toiletries – non-liquids
Face wipes
Toilet wipes – you never know when you'll need to go in a bush!
Antibacterial wipes – see above, especially if you'll be picnicking on your game drives
Solid deodorant
Solid lip balm
Dry hair shampoo powder
Razor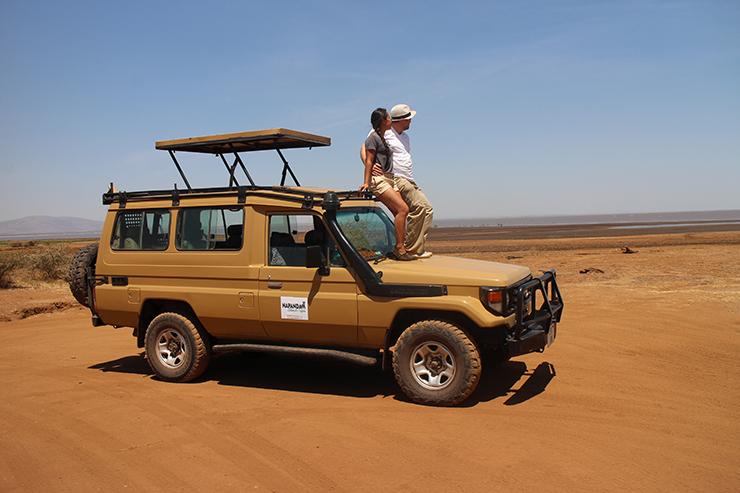 Make-up – I kept this to a minimum
Mascara
Lipstick – can dress up any look
Highlighter – for that healthy holiday glow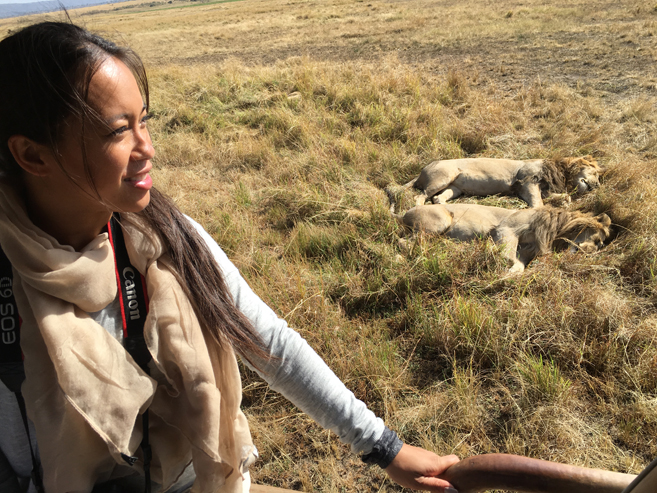 Rachel
Cami tops x 2 (white and black)
Loose cotton t-shirts x 2 (grey and cream)
Long sleeve thermal wicking top (grey)
Light jumper (grey)
Fleece (grey)
Shorts x 2 (green and beige)
Loose trousers (beige)
Jeans to travel in and used them for our city break stop over on our return journey
Skirt (black) which could be dressed up or down
Off the shoulder beach top (cream)
Bikinis x 2 (no one wants to wear a soggy bikini)
Hat
Scarf (beige) great for shielding the camera from dust, an extra layer to keep warm and protecting against flies
Toms (black) I chose Toms over trainers because I know my feet swell in the heat and it can be uncomfortable to wear trainers. As our itinerary didn't include any walking safaris I didn't need walking boots. Whatever you chose make sure they are comfortable and if you plan on a walking safari that they have a thick sole as Acacia thorns are long.
Flat sandals (tan) for the beach and more dressy occasions
Sunglasses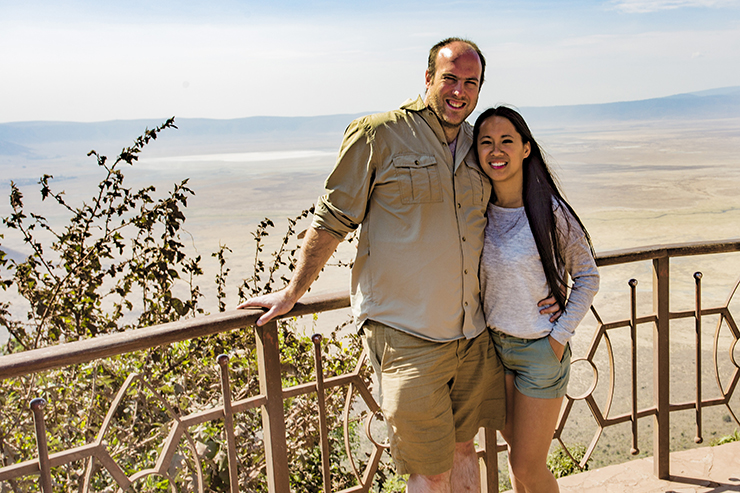 Tim
Loose cotton t-shirts x 3 (white, black and beige)
Quick drying button up shirt x 3 (beige, grey and maroon)
Long sleeve thermal wicking top (grey)
Warm hoody (green)
Shorts x 2 (beige)
All weather trousers which zip off to make shorts (beige)
Swimming shorts x 2
Jeans & chinos (good for cooler nights)
Hat
Sneakers (white)
Flip flops (tan)
Sunglasses
With Chaka the zebra
Things we bought that we didn't use
Life straw water bottles – everyone provides you with bottled water anyway
Camera beanbag and gambol tripod head – we had open sided and closed sided vehicles but always stood up through roof so there was nowhere to mount them, also things happen too fast to sit there and adjust. Use a fast shutter and a fast lens and you're away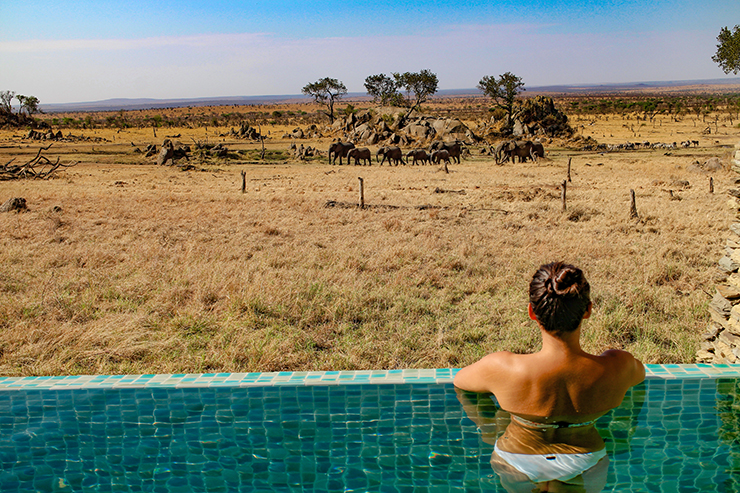 Thanks for reading and we hope you found it helpful. Now go an enjoy your trip of a lifetime!
Last modified: 31st January 2020