It was going to be a day of daredevil adventure; climbing up and jumping off waterfalls, then hurtling down white water rapids like the wild, extreme daredevil travellers we are.
We left the cloud shrouded Poas Volcano Lodge long before sunrise to get to La Fortuna and encountered our first challenge: a herd of cows on the road. Unsure what to do we politely shooed them off the road. Daredevils? Well, we were cow shooing ON A VOLCANO!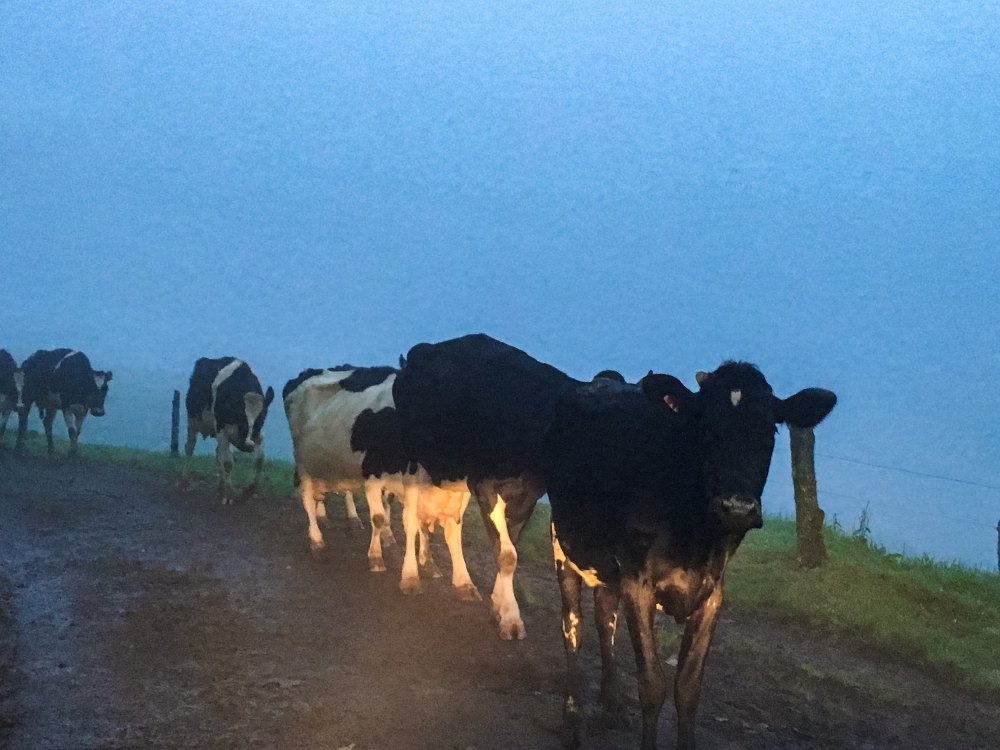 Things soon took a turn for the better. As soon as we arrived at the Desafio Adventures office, we were on our way, hurtling up hills then dropped off in the middle of nowhere. We were then wrapped up in harnesses, life vests, gloves and helmets.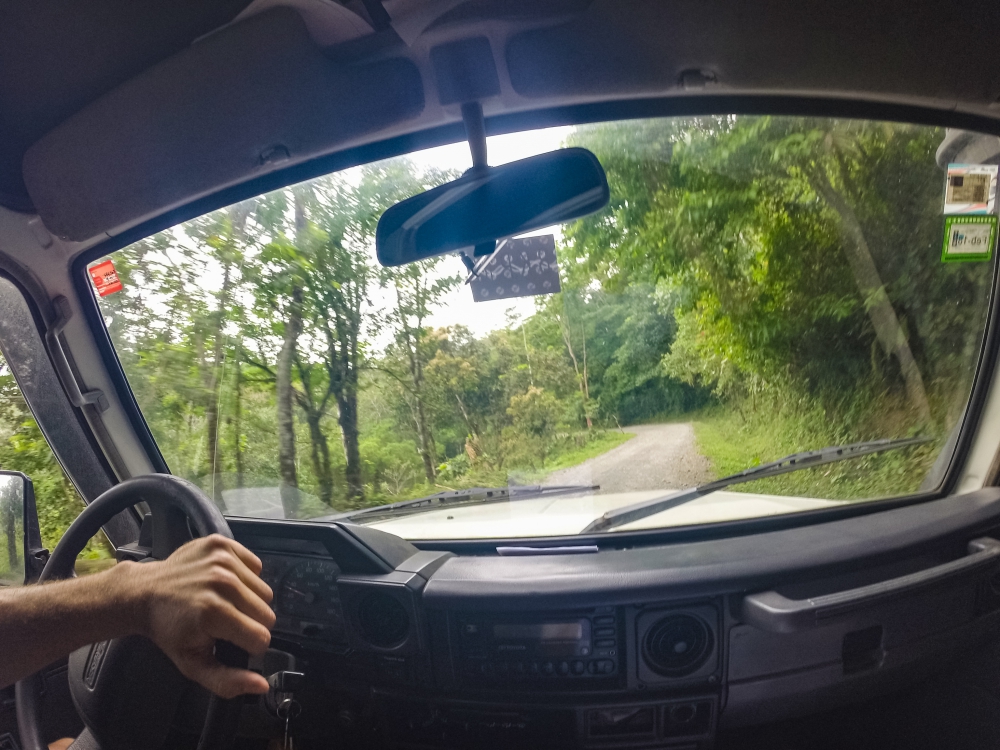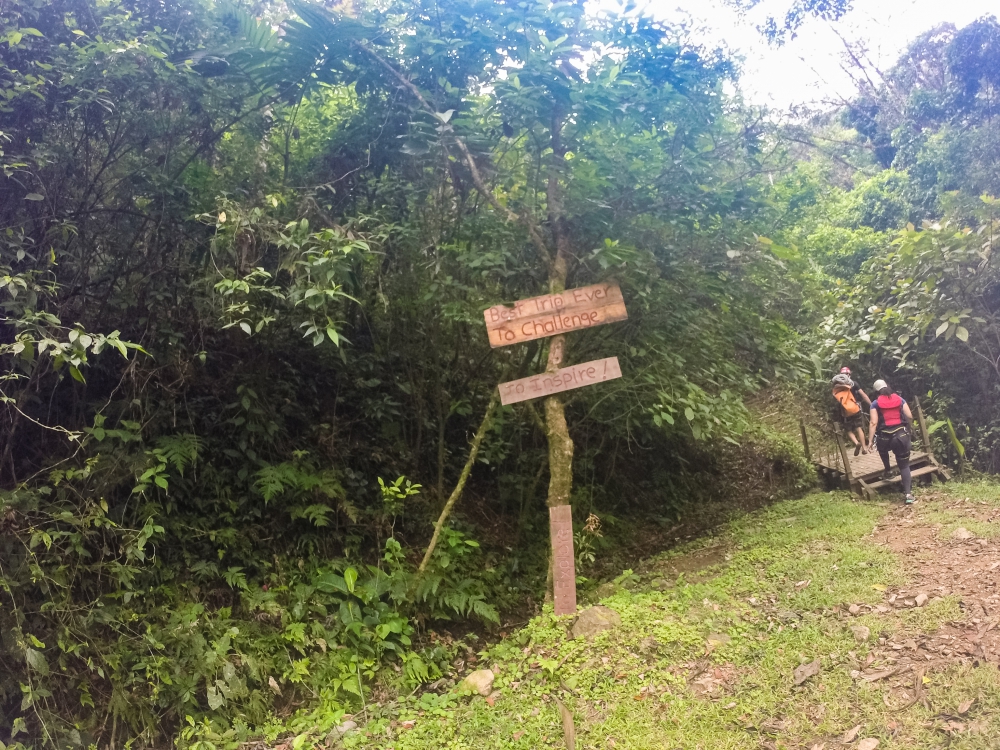 Equipped, we were led into the jungle. Our guide pointed out the bright red, tiny strawberry poison dart frogs, instructing us to be careful when climbing. I wondered whether there was something less daredevil than being poisoned by a frog?
The rush of water could be heard ahead. We were getting closer but didn't quite know what we were getting closer to. As the trees cleared we were surprised to find out it was a 140ft waterfall.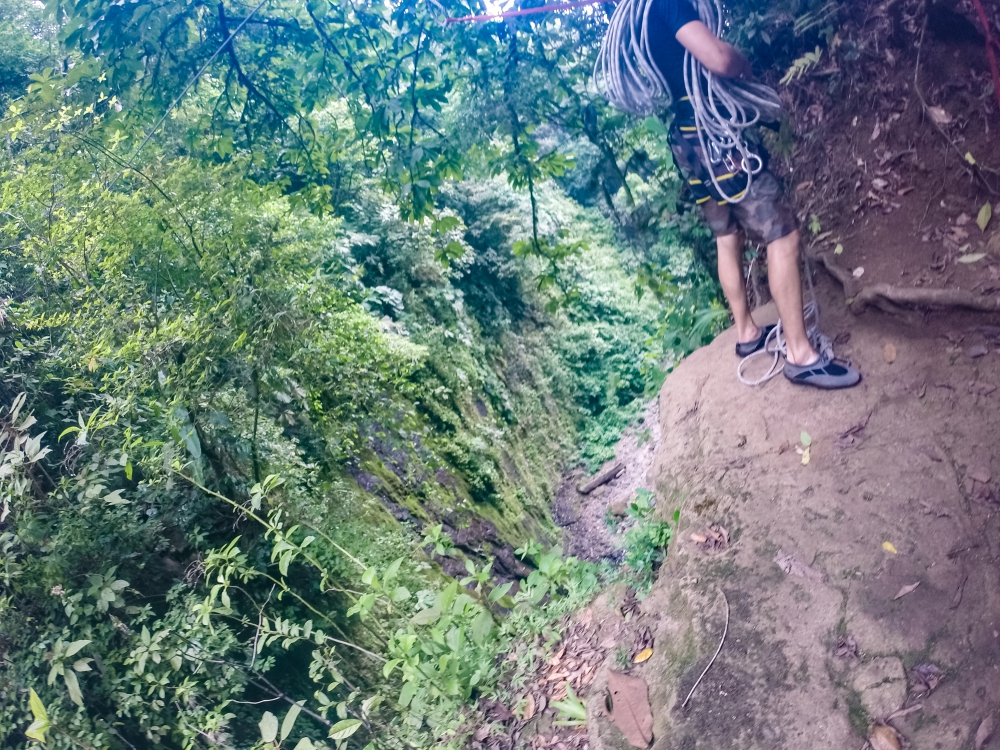 Obviously we knew we were going to climb a 140ft waterfall. However, 140 ft looks a lot higher than you think… especially when you're at the top of it.
Standing precariously on the ledge, we were told not to move until we were strapped in. Our guide was very relaxed about the whole thing and, once he had strapped himself in, proceeded to nonchalantly leap off the edge. Kicking out and swinging around below he proceeded to give us the safety talk.
Desafio promotes this as the most extreme tour. At this point I wasn't feeling too extreme. Things got significantly worse when I found out that my fellow daredevils were feeling even less extreme than me and I was nominated to go first.
I took tiny steps towards the drop and the guide hooked me up. I turned so my back was facing the edge, 'sat' into my harness and so that my legs were perpendicular to the ledge and off I went!
…very, VERY slowly.
Using my arms to support my upper body and gently letting the rope slide through my gloved hands I made my way down the rock face. I slowly got into my "stride" and gained control over my fears. I began to realise that it wasn't as hard as I thought it was going to be. It even began to become fun, and then great fun. I managed to take in some of the views as the whole place was so beautiful. The waterfall was next to me and flowed into a pool at the bottom, where the other guide was standing with the belay rope for added safety.
Towards the bottom, the guide shouted to let go and as I did I plunged into the ice cold pool beneath me. The freshness of the fast change in temperature was very welcome after having spent the last episode of my life sweating profusely. I swam to the shore where I was unhooked and rested perched on a rock, as they sent the ropes back up to the top for the next person's decent.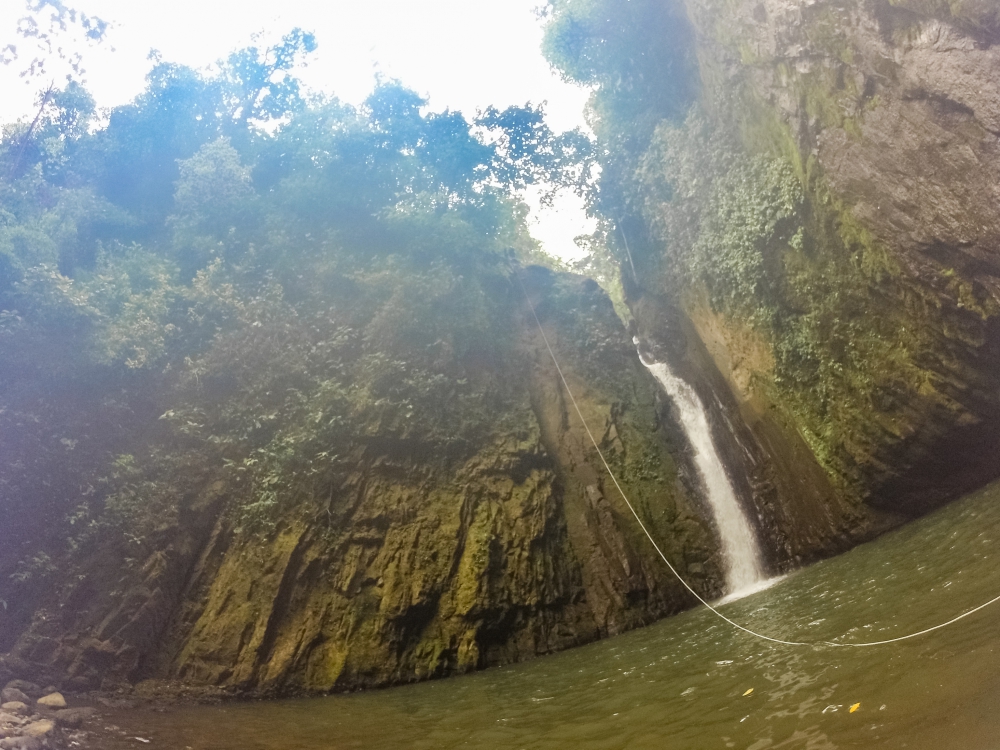 From the bottom looking up, I could really appreciate the scale of the waterfall and the rock face. I swam a little and chatted to the guide until his focus honed in as the next person shuffled to the edge above us. The average time it takes to descend is 7 minutes, I took 10!
After the initial push to break through the fear barrier, the ensuing hike through the rainforest seemed a lot more manageable. We jumped from cliffs into deep canyon pools and even into a small hole in the rocks below. We rappelled down several more 30ft waterfalls, which got easier each time and the adrenaline rush didn't subside.
What I really loved about this tour was that it was conducted on their own private land, so there weren't lots of people there, the guides are totally focused on you and your safety and it almost feels like a 'secret' paradise that you get to enjoy for the day.
Thank you to Desafio for hosting our canyoning experience, however our opinions are always honest and our own. To find out more about the Gravity Falls Tour or any other adventure tours with Desafio visit their website https://www.desafiocostarica.com
Explore the rest of our itinerary in Costa Rica here.
Last modified: 13th July 2018