The luxury property of Arenas Del Mar offers sweeping views over Manuel Antonio National Park against the equally picturesque backdrop of the Pacific Ocean. Since the resort is set in the heart of an 11-acre private nature reserve, you can expect a truly beautiful and wild stay.
If that isn't enough to boast about already, this award-winning hotel is completely carbon neutral. In addition to solar power and energy efficient lighting, Arenas Del Mar has electric golf carts to reduce carbon dioxide emissions, has planted 7,000 species of native trees and used roof tiles made from discarded plastic bags from the banana industry during construction.
Is it possible to have luxury that really doesn't cost the earth?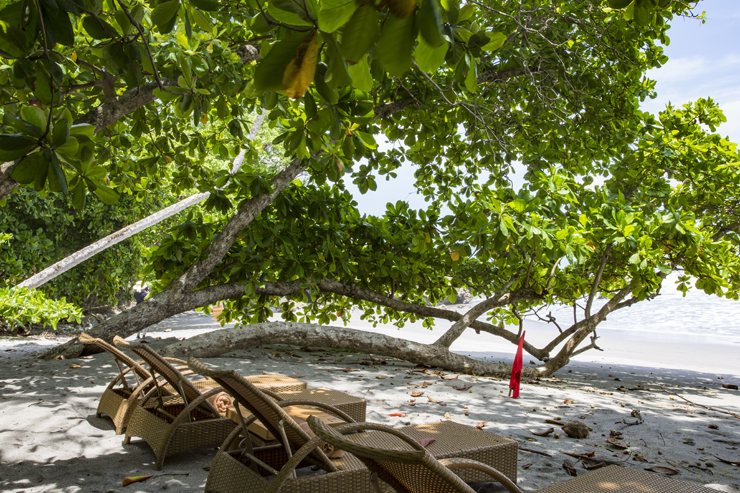 Most importantly – Does the hotel and room do what it's supposed to do?
Tucked away off an unsuspecting road, Arenas Del Mar's mix of beachfront and rainforest features created the perfect environment to relax in.
The accommodation was spacious and very private. Our covered veranda with a sunken Jacuzzi pool looked out over spectacular views and we had the choice of not one but two private beaches to explore.
The whole resort is set up to make you feel special, welcome and to showcase the beauty of the country, so yes, it certainly does what it is supposed to do.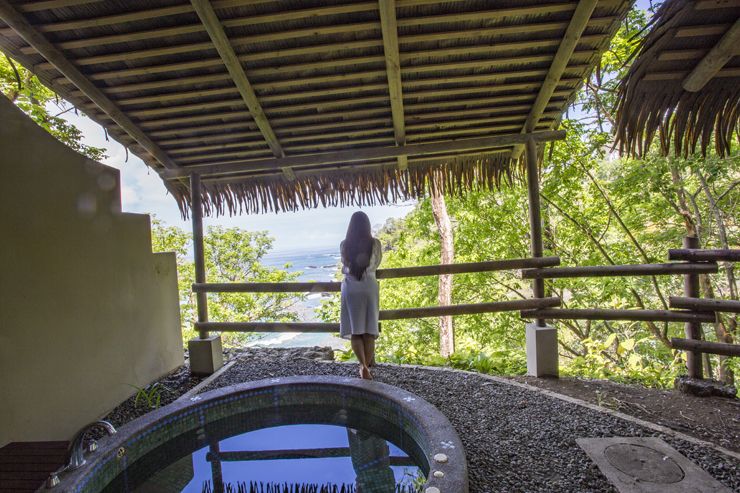 How did we rate the experience before we stepped into the room?
The resort itself it quite big and built around the configuration of the land to reduce it's impact on the environment. This means walking between areas can be along quite long and steep. Here's where the electric golf carts come in. On arrival you are greeted in the 'Welcome Pavilion" in the car park and chauffeured to the lobby for your welcome drinks and check in. You are then able to request a golf cart to/from your room if you decided that you didn't fancy the exercise in the heat.
Everything was very efficient and smoothly run from the moment we arrived.
However, getting there was a little trickier. The road to turn off wasn't well sign posted or lit; it almost looked as though there wasn't anything down there. You have to drive down a very steep hill that is only wide enough for one vehicle. I would recommend that you pre-plan your route before you set off, there are directions and landmarks to look out for detailed on the Arenas Del Mar website.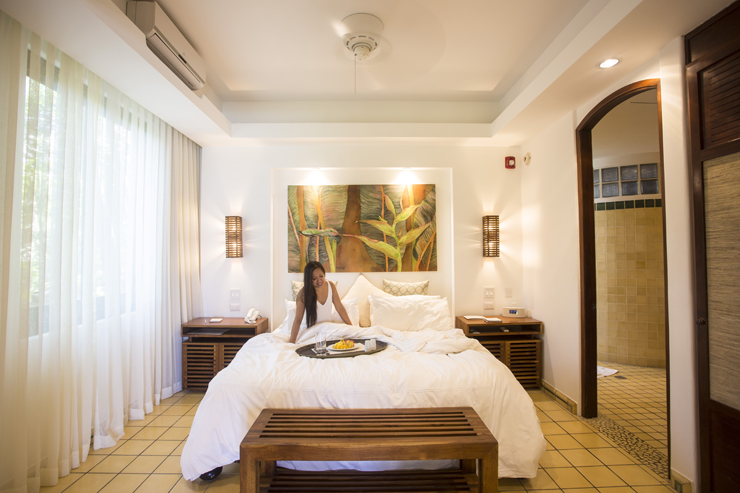 Does it cover the basic needs?
Breakfast – a great selection, we ordered room service to fully enjoy the time in our suite
Comfy bed – a sumptuous king bed for a cosy night's sleep
Decent towels – Good size and soft on the skin
Fridge – definitely, and essential when making the most of your veranda
Good pillows – very fluffy and soft
Parking – yes
Safe – yes
Shower with decent water pressure – yes, large open shower
Wifi – yes
What makes your stay feel special?
The 'Welcome Pavilion' was a very welcome sight indeed! It was a great place to introduce you to staff and the property and makes you feel special as soon as you arrive.
I really must mention the sumptuous bed; you melted into it, never getting too hot or cold and had such a great night's sleep that I still think about it today.
Set in a nature reserve, you room is cleverly integrated into the greenery and immerses you into the heart of the rain forest. First impressions walking up to the heavy, ornate doors to your suite certainly sets the tone for your stay.
Hotel food?
We arrived after dark so unfortunately couldn't appreciate the views from El Mirador restaurant (until the next day). Perched atop a hill, the semi open-air setting invited a refreshing breeze and created a soothing atmosphere. The food was delicious and exactly what we needed after a long day travelling before we headed to bed.
Arenas Del Mar sources most of their food locally and use only local grass-fed beef, hormone free chicken and seafood from responsible Costa Rican fisheries. They also offer gluten free, vegetarian and vegan dishes.
For breakfast we decided go order to our room so that we could sit on our veranda and enjoy the view. We were spoilt with a selection of fresh fruit gallo pinto (when in Costa Rica…) and pastries.
Biggest issue?
For us it was finding the resort and navigating the steep roads, but still very manageable and didn't affect our overall experience.
The only other thing, which should be expected since the resort is so 'close' to nature, but there were hundreds of small red crabs everywhere. There were a couple waiting in our suite (and in the shower) which was a little bit of a shock. You also have to be careful not to stand on them. This only happens at certain times of the year. However we were also treated to lots of other sightings such as iguanas by our Jacuzzi and white faced monkeys on our balcony.
Best extras included?
Of course, the Jacuzzi – who doesn't love one of those? We spent our morning making the most of it and admiring the views over the Pacific Ocean.
Then there are the two private beaches with glistening white sand and light shade from the trees. We made friends with a sloth who was just hanging around in the trees above our sun loungers (they are so much bigger than I thought).
Overall impression
This is a great place to get in touch with nature, spend time outdoors exploring the trails, swimming in the ocean and relaxing on their swing with a cocktail in hand. The staff couldn't do enough to make sure our stay was perfect and the food was plentiful and delicious.
Thank you to Arenas Del Mar (see their website here) and The Cayuga Collection (see their website here) for sponsoring our stay, however as always, are opinions are honest and our own.
Explore the rest of our itinerary in Costa Rica here.
Last modified: 13th July 2018