When you think of Jamaica, you think of the warm Caribbean Sea, soft white sand and sweet sounds of Reggae. When we first planned this trip, we never thought for a second that we'd be biking down through the Blue Mountain range. Not content with just a visit, we decided that a bike tour would be just the right amount of adventure – even though neither of us had been on a bike for over a decade – Blue Mountain Bicycle Tours: challenge accepted.
The Blue Mountains, although very green in reality get their name from the mist around the summits. This creates the illusion of a blue hue. It is this mist that produces the perfect climate to grow the famed Blue Mountain Coffee beans.
We were picked up from the Texaco Garage in Buff Bay by the Blue Mountain Bicycle Tour bus and headed into the mountains. To say it was bumpy would be an understatement. I didn't realise the extent of the twisting roads, so I spent half the journey up the mountain concentrating on not being sick. An obvious top tip here would be to bring motion sickness tablets if you're partial to feeling ill on the road. We did toy with the idea of self driving up here, but realised pretty quickly that it would be a challenge to say the least.
About half way up the mountain we stopped for brunch at the Blue Mountain Restaurant & Coffee Shop (did I mention that this was an all-inclusive trip?) which had sweeping panoramic views of the coffee plantations from the open veranda.
It was hard to take in the vast views around us. Everything so was so verdant and green. The perfect environment to grow coffee.
After we'd finished our brunch and refilled our water bottles, we tried on the helmets, knee and elbow pads to ensure they fit snuggly and listened to the safety briefing. There was a quick introduction to the coffee growing and processing procedures. Afterwards there was the opportunity to visit the small gift shop.
Back on the bus we climbed higher into the mountains towards Hardware Gap, 5600 feet above sea level. It is the highest point accessible by vehicles.
Greeted by rows upon rows of bikes, gleaming in the sun and ready to be chosen, we were almost spoilt for choice. We both opted for traditional mountain bikes but there were 'cruiser' style with brakes only on the front wheel also available. All the bikes had only one gear – since we were only travelling downhill this wasn't a problem. Being as short as I am, I had to get the seat lowered, which they were able to do instantly for me.
Then off we went! It took me a few minutes to get used to being on a bike again, but since I didn't have to pedal, all I had to do was try to stay on the bike.
The roads were tarmacked most of the way, but weren't in the best condition. It isn't surprising considering how remote we were.  Our guide would regularly shout 'pot hole' and we would, in turn, shout it back up the line. We shouted 'pot hole' a lot. As well as 'sharp turn' and 'ahhhh' when we got too near any of the other hazards on the ride. It was all good fun and I am sure that I was grinning most of the time!
The bus drove a distance in front of us with a radio that would let our guide know if there were any vehicles coming our way. This was great safeguard since the roads are very narrow and corners are sharp. If there was a vehicle coming towards us, we just pulled over to the side of the road to let them pass. Throughout the whole trip we felt very safe and that all safety precautions had been taken.
At intervals we would pull up at the side of the road to enjoy the view. Perfect since was sometimes be hard to see everything when dodging potholes and trying to stay on your bike. Our guide pointed out the different farms and buildings in this remote area. It was a real insight to be able to learn about this historical and rural side of Jamaica. It felt so special and enlightening to be gliding through the fresh mountain air as we descended especially it is a side of Jamaica that isn't normally seen.
We made it back to the restaurant where we could use the facilities before being served our delicious lunch of jerk chicken and tasty rice. The portions were certainly hardy, and you won't go hungry on this tour, that's for sure. There was some time to take in the views as our food digested which offered the perfect time to get to know some of our fellow riders and their stories.
Exploring on foot, we followed our guide into a privately owned coffee plantation where we saw the coffee plants, learnt about the wildlife and tried to spot some native Jamaican birds.
We finished our ride at a secluded waterfall, where we had time for a quick (being the operative word) swim. After a tough swim through the pool to the base of the waterfall, we found our way behind the cascades and enjoyed the cool, refreshing water. IT would have been lovely to have just a little more time here.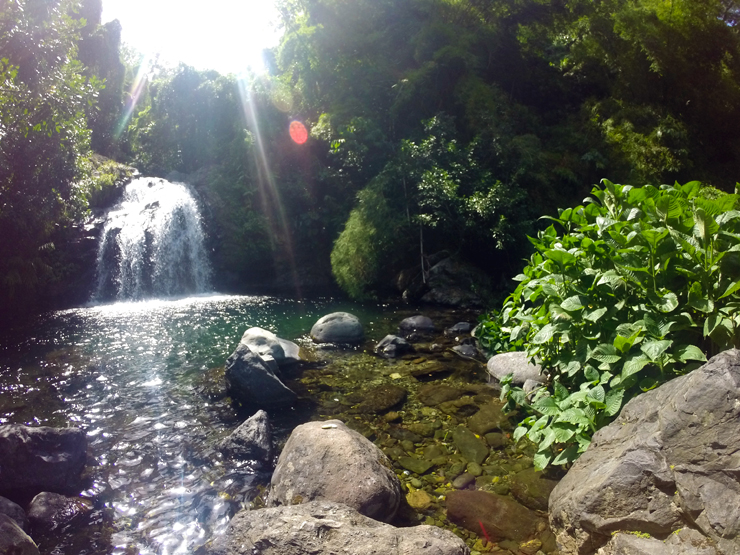 Overall this was a fantastic experience. Something a little different, truly exhilarating and educational. It was a lot easier than I imagined it would be too. We 'cycled' with a group of 15 people (although it can get busier in the high season) and there were 3 different photographers and videographers whizzing past us taking photos but also helping to keep us all safe.
A couple of things to remember to bring: sun cream, insect repellent, camera with a strap to keep it secure whilst you're on the bike, swimming gear (there are changing facilities), bottle (or two) of water and some cash in case you'd like to buy anything from the shop.
If you would like to book your own tour visit the Blue Mountain Bicycle Tours website or contact them at info@bmtoursja.com. Founded in 1991, now with a local team of 50 people, Blue Mountain Bicycle Tours are "always striving to provide visitors to Jamaica with memorable vacations." Unforgettable is definitely the word I'd use for this experience.
Thank you to Blue Mountain Bicycle Tours for hosting our incredible day, however our views are always honest and our own.
Last modified: 5th August 2016