280 foot yachts, private clubs, jewellers and high end fashion stores. Not many people confuse Montenegro for Monte Carlo, but most people haven't been to Porto Montenegro.
The steep mountains of Montenegro's Kotor region create deep fjord like lakes and bays. A few years ago a man named Peter Munk noticed these deep waters and beautiful hills and thought to himself "This would be a great place to sail". The difference between Peter Munk and most other people is that most other people aren't sitting on a personal fortune of over $23 Billion.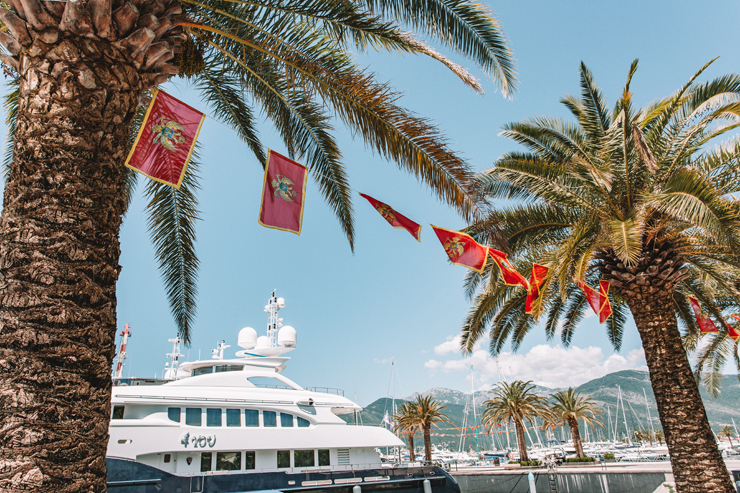 And so the Marina at Porto Montenegro was built. The Marina currently has 450 berths but on full completion will hold over 800 with over 200 berths for Superyachts like Peter Munk's very own Golden Eagle, or the Ocean Victory: a 76 meter monster yacht with it's own cinema, beach club and helipad.
The area is more than a marina though. As the yachts started to sail in and drop anchor, so did the high-end boutique stores, restaurants and wine bars. The waterfront promenade that follows the marina is fashion haven with the likes of Dior, Cartier, Rolex, Gucci and Alexander McQueen forming an eager queue as the yachts come in.
Porto Montenegro is very new but it has already started to generate a reputation as a party town. On an evening, expect the waterfront to be littered with locals, sailors and tourists alike enjoying fine food, wine and company in the bars and restaurants.
The Regent Montenegro, the 5-star hotel in the centre of the waterfront, is the perfect place for a special celebration (like a wedding) or for those who can afford luxury whilst also maybe not yet having a yacht. They have a wealth of restaurants to choose from (see more about their high end cuisine here), their rooms are beautifully styled and the penthouse suite is something dreams are made of, offering a birds eye view over the port.
For those wanting to get ready in style, the Porto Montenegro Yacht Club is the perfect place to relax and slowly gear up for the night festivities. We featured it here in our top day trips from Kotor.
The 64meter infinity pools goes right from the club entrance to the edge of the Bay where you can sit and watch the superyachts sail in. With day beds for up to 188 people and additional lounges to spare, you don't need to get up at dawn to reserve your spot.
The Porto Montenegro Yacht Club is the perfect place to relax, enjoy drinks and food on it's rooftop bar, music from it's live DJs and rub shoulders with the rich and famous whether they be Russian oligarchs or Montenegrin Ambassadors. The Porto Montenegro Yacht Club stays open until the sun sets, after which the parties get started next door.
Next door is the platinum club. The platinum club is a club that, according to it's website,"caters for both casual and extravagant entertainment, cocktail drinkers and wine lovers". Sadly our travel budget didn't quite stretch to "extravagant entertainment" so we headed back down to the waterfront for a glass of local wine and a last look at the mountain range of superyachts.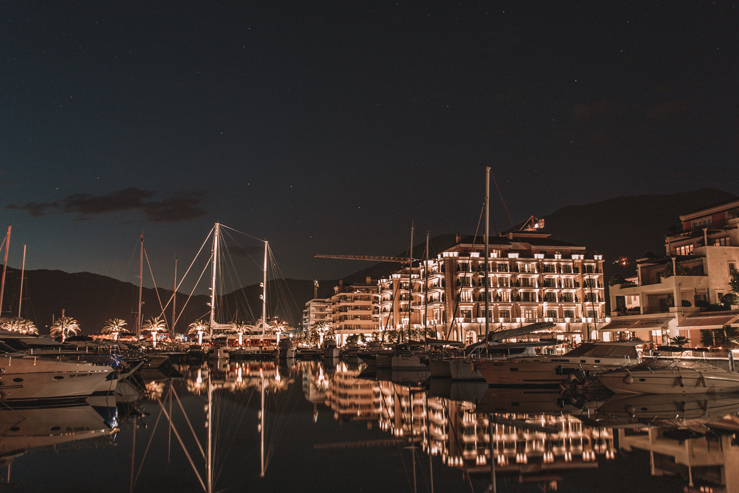 Porto Montenegro does not typify the country of Montenegro in any way. However, with more and more luxury hotels such as One & Only, Four Seasons, Banyan Tree and Kempinski looking to or already building hotels in the area, it may be sign of what is to come for this small country. And maybe one day it might be Montenegro and not Monte Carlo, that becomes the home of the superyacht.
Last modified: 11th August 2018