Spain is no stranger to tourists. Last year it was the 2ndmost popular tourist destination in the world with over 80 million international tourists. It's certainly no secret in the UK with over 18 million British tourists holidaying in Espana, that's 2 in every 7 Brits taking their holidays in Spain.
It seems almost weird doing a discovery piece about a pretty little holiday resort town on the Mediterranean coast, as you'd think the world already knows about Spain. However, you might not know about Mojácar… and if you read on you might find out why not… and why you should take notice.
The Good
Let's start with the obvious: Spain is an incredibly popular travel destination because it has great weather, fantastic food and wine, world class beaches and culture, tradition and music to rival anywhere in the world.
Mojácar has all of this and then some. Mojácar in the depths of winter might dip all the way down to 11 degrees in January and the sea temperature might dip to a (not actually) cool 15 degrees Centigrade, but neither sea or land will average over 25 degrees in summer meaning it never gets too hot. The temperate Mediterranean mixed with the cool winds coming off the Andalusian Mountains means it's holiday weather 9-10 months a year in Mojácar.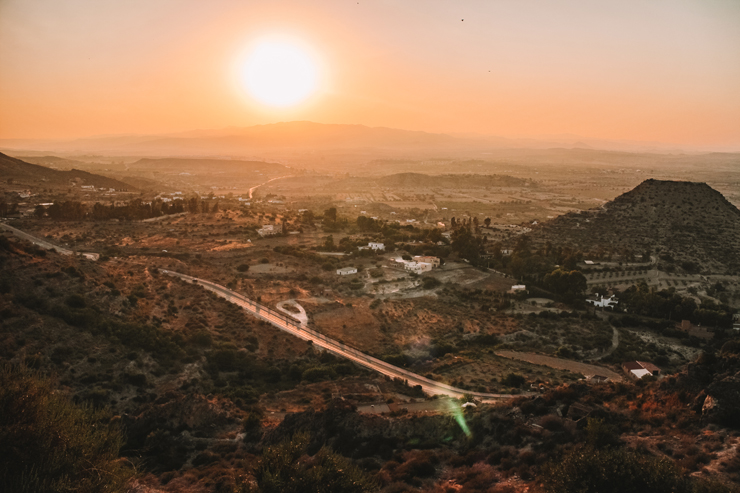 But Mojácar, is not your average Spanish town. It was originally founded and built by Arabian settlers from North Africa. The old town centre looks more like Marrakech than Madrid with its stone white houses separated by tiny alleys only mopeds and adventurous tourists can fit down. Our local guide Eugenie described the style as "Arabian Air Conditioning", the tall houses and thin streets forcing the wind down into them and keeping the locals cool with a refreshingly constant light breeze and shade.
And it is a great place for adventure. The area boasts a full array of activities for adventure seekers including scuba diving, paragliding, kayaking, quad biking and many more activities. The waters around Mojácar are, on a still day, crystal clear, so we decided to hit the water on our stay.
We took a scuba diving session with Buceo Mojácar, the local diving school. Buceo are a 5-star PADI certified diving school and we were lucky enough to spend the two sessions with their enthusiastic and passionate instructors Javi, Gustavo and Jose.
Our group ranged from experienced PADI qualified divers to complete first timers and the diving team did a great job of mixing unbridled enthusiasm with patience to make sure each of us were engaged and enjoying themselves without feeling rushed. After a beginner lesson in the pool we ventured out the next day to dive in the sea and saw an octopus, barracudas, starfish and swam amongst great big shoals of fish of every colour.
We also got a hit of passion mixed with patience on the Marina del Torre Golf Course. Our pro golfer Alvaro Sanchez Herrera taught us the basics of a golf swing and patiently watched us basically murder the game of golf. However, with his zeal and energy we were soon chipping balls high up over the driving range and having a ton of fun.
The Marina Del Torre is also a great example of the natural beauty of the area. Hole 1 is Just 100 yards from the sea and its cool breeze, but hole 4 is high up at the top of a mountain ridge offering spectacular views of the valley below (and giving your swing a little helping hand).
If you're not into golf, there's plenty of natural beauty nearby to be found in the Cabo de Gata and hiking up to the Torre de Perulico.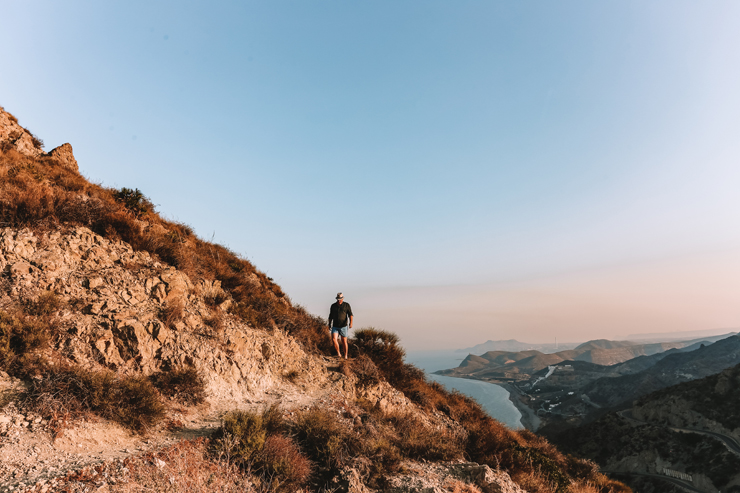 If hiking isn't your thing you can reach the Torre by kayak or quad bike for a more adventurous experience.
The Bad
Not everything about Mojácar is picture perfect. One of the first odd things about Mojácar is despite 18 million British tourist tourists visiting Spain every year, along with 22 million from France and 11 million from Ireland and Germany apiece, there aren't a lot of foreign tourists.
Mojácar traditionally has been a destination for Spanish holidaymakers, often wealthy ones who can afford second homes next to the beach and flock to coast when summer arrives and schools are out. Whilst this isn't a bad thing, it does mean international travellers may experience some issues.
The food in Mojácar was pretty great:
However, Spain is not a hotbed for vegetarians so you may find some restaurants offer a very limited vegetarian menu. Luckily, many of the restaurants we visited were happy for the chef to whip up something 'off menu' without meat and the Cabo Norte did a particularly nice job with a vegetable risotto.
Whilst the food was usually great, the level of service varied wildly from restaurant to restaurant. It seemed that especially as the town got busier, waiters became rushed and less attentive, hotel staff forgot wake up calls and the quality of our experiences dropped.
Whilst these small things aren't going to ruin a holiday, Mojácar's slight immaturity as a holiday destination may stop you having the 'perfect' holiday.
The Early
Mojácar for international tourists is a quite young and new destination. Whilst there may be some teething issues during your visit, it more than makes up for it in keenness and exuberance.
We were lucky enough to visit the town during the "Noche De Las Velas": the night of the candles. For one night the lights of the city were turned off and over 5000 candles lit up the old town and local bands, drummers, singers and fire breathers lit up the night.
It was a gorgeous event that pulled the whole town together but is still intimate and quite innocent: volunteers walked the streets at night relighting the candles as the kids of the town blew them out.
The town is also unaffected by tourist-inflated prices. A 3 course dinner at La Ermita, a restaurant on the town's main square, will only set you back €14. A 3-course dinner at "Sensations" restaurant on the beachfront will set you back just €12.50: Prices that are unheard of in Benidorm, Tenerife or anyone of Spain's more famous tourist traps.
Mojácar wants to stay clear of being a big tourist destination. For example, the seafront hotels cannot be too tall to preserve the natural beauty of the area and maintain the beautiful views from the old town.
It's difficult to envision Mojácar staying a secret much longer. With it's natural beauty, abundance of offerings and great weather, it surely can't be too long until the international hotel chains start moving in, the day trip tour buses start pulling up and the prices start to creep up.
However, there is a chance that this won't happen. I mean, if 80 million foreign tourists flood and swarm into Spain every year, it kind of makes sense the Spanish would want to keep a secret little gem all to themselves.
A little background…
We flew to Mojácar, Spain with Jet2Holidays as part of a press trip however as always, our opinions are always honest and our own.
Mojácar is a small picturesque, mountain top town in Southern Spain. To get there we took a flight with Jet to Almeria from Manchester although Jet2 also provide flights to Almeria from Stansted. Our transport from Almeria Airport to our hotel, the Algeria Palacio Mojacar was organised by Jet2Holidays as part of Jet2holidays' Costa de Almeria holidays.
Last modified: 11th August 2018