Blindly following the dirt track, the thick veil of cloud slowly thinned as we crept to the edge of Ngorongoro Crater. Other vehicles eventually came into focus as we started to descend to the bottom of the basin in an ant-like convoy.
Ngorongoro Crater, also known as the cradle of life is the place to visit if you want to see a lot of Africa's wildlife in one place. Perfect for those on tight time budgets like us.
We decided to leave our camp early to catch the sunrise over Ngorongoro Crater, but failed to realise that the top of the crater would be immersed in cloud. The magnificent views from the viewpoint area were obstructed by a wall of white.
Once we hit the crater bottom, the sun was starting to peek through the clouds and the sheer scale of the crater was revealed. It wasn't a small area; this crater was a whole world.
Since we had already seen four of the 'Big Five,' today's adventure focused on seeing the elusive black rhinoceros. We headed for the area where other guides had seen one earlier that morning, combing through the forests, anticipation in the air.
Unfortunately we didn't spot any rhinos so we moved on to a different part of the reserve and promptly bumped into two ostriches who were in the mood for love.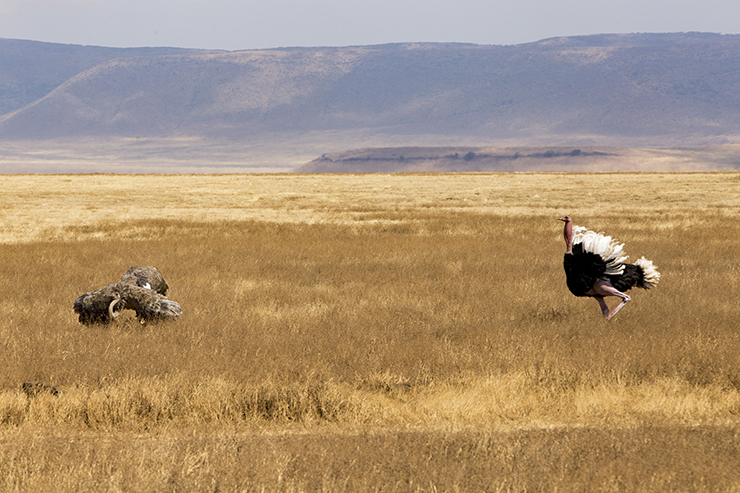 The male's mating display made us dizzy just watching. He took a couple of steps then lowered himself to the floor to flinging his head and neck from one side of his body to the other. Gradually getting closer, the female sat down and waited. As did we. Eventually he sat on top of her and continued his display. Then suddenly he walked off, and that was the end of that.
Over the next hill, we were halted by a zebra crossing, literally. They stood there in the road looking at us nonchalantly and swinging their tails. It was almost as if they were waiting in line, taking it in turns to roll around in the dust.
We stopped by the lake for lunch and parked up with a great view of the hippos. It was a lovely spot to settle down, but I think the entire park had the same idea. The local birds knew this was a hotspot, and Tim almost had his roast chicken whisked away by a hungry Red Kite.
One of our worries before we touched down in Africa, was that we wouldn't see any animals. We needn't have fretted.
As you can see there were wildebeest and zebra scattered around everywhere. A huge dust cloud rose nearby so we ventured over to see what was happening. A hyena had started to chase down all the wildebeest, I'm not entirely sure what the end goal was, since our guide told us that the wildebeest could out run him anyway. He seemed to be enjoying the thrill.
As the day started to draw to a close, we had almost given up hope of seeing a rhino when we pulled over by a couple of vans filled with excitable passengers. We searched the direction that everyone was pointing and still couldn't make out what we were 'seeing,' even through the binoculars and telephoto lens. Our driver reversed slightly to get closer to the crowd and from behind a tree, a black rhinoceros came into view. He was very far away but we could still make him out! We were suddenly as giddy as all the people we were sharing this sight with. There turned out to be not one but three rhinos there! Can you see them all?
So there you have it, Ngorongoro Crater was a mini-adventure in itself and held the last piece to our puzzle.
If you're interested in visiting Ngorongoro Crater we'd advise you to book with a reputable local safari company such as Napanda Safaris to ensure you have the best experience and see as much as you can whilst you are there.
Last modified: 2nd September 2017