As we reached the eye of the storm I experienced something for the first time: Sensory overload. As over 2 million litres of water beat down on us every second all I could see was white. All I could hear was constant unrelenting thunder. All I could feel was drench. I'm not sure if that's word, but it's certainly a very physical feeling when you're standing at the bottom of Niagara Falls.
Yet it was all so exhilarating, exciting and very unique. Travel often takes us to places of immense natural beauty. However, it's not often you experience both the beauty and the frightening power of one of the natural worlds' most iconic beauties.
We were on the 'Voyage to the Falls Boat Tour' with Hornblower Cruises. Our 'Ultimate Layover' had been planned with King Tours who booked our boat tour. Our guide Jay had all our tickets sorted for us and ushered us through, skipping all the queues which can be up to an hour long. We recommend booking in advance because, as we'll show you over the next series of blog posts, you can do an awful lot in Toronto and Niagara in just a few hours.
At the entrance to the landing area we were issued with our bright red iconic poncho – something I had been looking forward to getting. It was long enough to cover my knees and large enough to keep my camera backpack dry too. Ponchos are standard issue on the tour and when we were called to board 300 human sized strawberries rolled down the jetty as if there was a Team Canada Ice Hockey game about to start on the lake.
We took our places on the floating punnet. I didn't realise there would be this many people but the catamarans can take up to 700 passengers, so it was easy to get a good place at the railings.
As we set sail we crossed another Hornblower Catamaran coming back to shore. The marinated strawberries on other boat gave us a glimpse of the natural phenomena we were about to experience.
This was the magnificent, un-interupted view that awaited us.
I've always been drawn to waterfalls, and Niagara was certainly spectacular. Our guide explained on the journey from Toronto, that people used to go over the falls for fun! In a somewhat unsurprising twist, many of them didn't make it. As the Hornblower Cruise Boat brought us closer to the action, it was impossible to imagine attempting that jaw dropping feat.
My mind snapped back to the present. Storm Niagara was building.
The drench-ness started to climax as we neared the Canadian falls. I started to wish my poncho was hermetically sealed onto me, or a least I had a drawstring around the bottom to stop it riding up.
The wind and the spray intensified even further as we inched closer. All our senses were in overdrive trying to make sense of what we were experiencing. It was hard to communicate, even with the person next to you, which meant you had time to really focus on the encounter. It was a strangely private moment.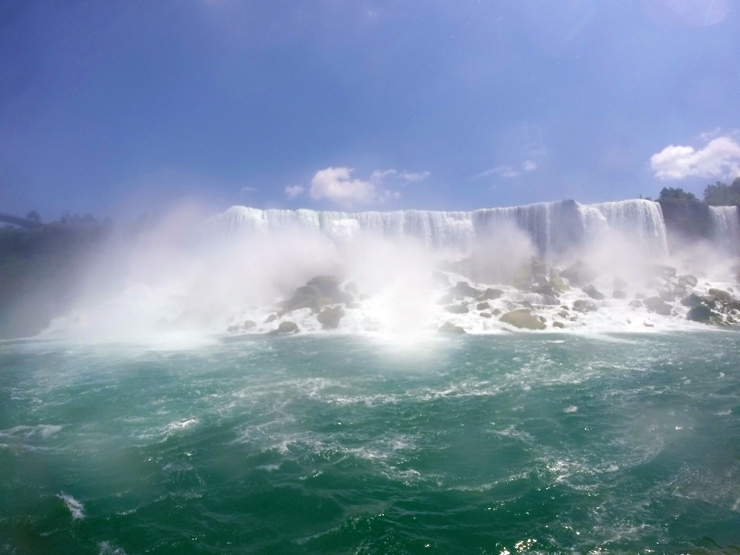 As we about turned, the storm began to subside. The sun started to peak through the mist and out of the chaos grew plentiful rainbows, enhancing the overall magic of our surroundings. The Hornblower Cruises boat started its leisurely retreat back towards the American Falls and the dock.
We survived our close encounter and I have to give it to those thin red ponchos! They really did their job keeping us dry, but still meant we that we could get up close and personal with the Falls without worrying about our belongings getting water damage.
Thank you to Hornblower Cruises for this intense tour of the natural wonder of Niagara Falls. For more information or to book your own tour see the Hornblower Cruises website here.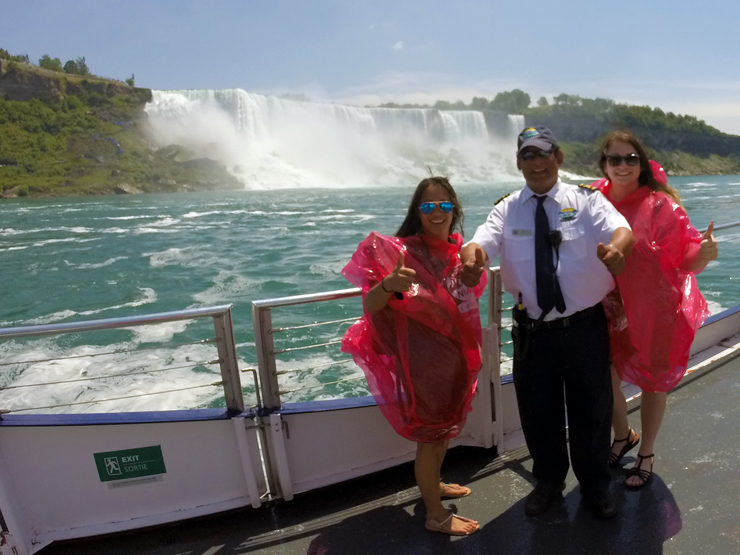 Hornblower Cruises generously sponsored our tour, however as always our opinions are always honest and our own.
Last modified: 22nd August 2016