As soon as we stepped foot into the cool, marbled grandeur of the lobby of The Kempinski Hotel, Mall of the Emirates, it was evident that today would be a morning of five star pampering.
We were met by the Softouch Spa Director, Doctor Sheloob and made to feel special from the get go. He took pride in showing us around the facilities, which are all decorated to complement the five elements. The tranquil atmosphere in each of the six treatment rooms, including two couple's rooms and a beauty room, set the tone for the rest of the morning.
Back in reception a sweet camomile tea with honey was waiting for us whilst we completed the necessary forms before we were shown to our respective candle lit rooms.
My therapist immediately made me feel at ease, showing me three different scents to choose from.  I chose jasmine but there was lemongrass and lavender too. Since I use lavender to help me sleep, I thought it was best to steer away of this one, as I actually wanted to remember my experience!
The room was lit by candlelight and there was soft music tinkling in the background. I changed into the supplied underwear, before climbing under the towels on the massage table and ringing the bell as instructed. This disposable underwear was so comfy (Maria kept hers on for the rest of the day!)
A wheat heat pack was applied to my lower back, and towels propped under my ankles. You can request any areas you would like to focus on too if you are having any problems. As it was a fully body massage she covered my feet, legs, back, neck, stomach and arms.
At the end I was given the option of a face and head massage with or without oil, but since we were heading straight for lunch, I opted for without. However if you have the opportunity to, I would recommend the oil. Not only is it good for the skin and scalp but it would have fell a lot more smooth if there had been oil on my skin. It was still great, and I wish I could have spent longer on the head massage. It is always I place I forget about when I think of a massage.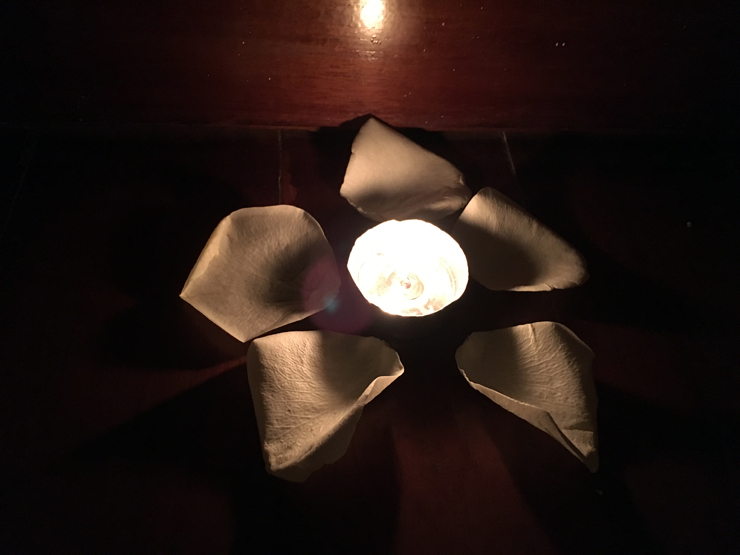 It was the little touches like the pretty bowl of floating candles and flowers on the floor under the bed (definitely makes a difference to staring at the floor) and the tea-lights surrounding the room shaped with petals; small details but they add the finishing touches to a relaxing experience.
I was left to relax for a while before dressing. She recommended to try to keep the oil on the skin as long as possible to let it really work its magic. Bearing this in mind, I should have kept the super comfy disposable underwear on, instead of getting oil all over my clothes.
I was led to the relaxation room where I met Maria and a warm cup of sweet camomile tea where we discussed our experiences and completed their feedback form. For Maria they used a special pillow to allow her to stay on her side during the massage which she said was very relaxing. They also concentrated on her swollen ankles and feet which wasn't helped from all the walking and the warmer temperatures. She was very relieved.
We took the elevator down to the reception where we had a table booked for lunch in their Aspen Restaurant. A pristine, modern and bright space with small splashes of colour and mouth-wateringly appetising looking sweets as you entered.
Aung, our waiter was so polite and helpful, assisting us with the ipad menus and recommending some great dishes. Since it was still early in the day, we opted for a lighter meal – much to the dismay of Aung as he really wanted to show us around the menu.
It does get quite cold in here, partly due to the air conditioning and partly because we were so relaxed we could have slid straight off our seats, so bring a warmer layer with you.
The overall vibe was very relaxed and chilled which suited us perfectly, but because Aspen is situated in the lobby area which leads to the mall, there was quite a lot of through traffic.
Foregoing the starters we opted instead for a refreshing drink whilst we waited for our main courses. I chose the Grilled Australian Beef Medallions on Aung's recommendation, which were a beautiful, buttery texture with lots of flavour in the gravy and potatoes. Maria chose a light salad which was fresh and crispy.
Since we were already pretty fully, we decided not to have dessert, although Aung managed to persuade us not to miss their home-made ice cream. Served in a frozen bowl, it was very pretty on the eye and had a lovely rich creamy texture. We definitely didn't regret trying this!
Before we left Aung brought us both a box of assorted macaroons to take away with us, a sweet gesture and one that was much appreciated.
It was a beautifully relaxing experience which was just what we needed. The perfect morning.
Thank you to The Kempinski Hotel, Mall of the Emirates for sponsoring our relaxation morning. However, this was an lovely experience and all opinions in this article are honest and our own.
Last modified: 20th September 2016