As someone who is lucky enough to visit Prague several times a year, I've been asked by many friends who visit what my recommendations would be, so I've finally pulled together the list of the top things I've enjoyed doing in this beautiful city. At the bottom of the page you will find a google map of all the places to help plan your route.
From the moment you set eyes on the Czech Republic's capital of Prague, you are captivated and intrigued. Everywhere you look it seems picture perfect. There are so many 'must sees' and historically important places to visit; it can be almost overwhelming to decide where to go. Some may be cliché but they're top of my list for a reason.
Here we go…
1. Prague Old Town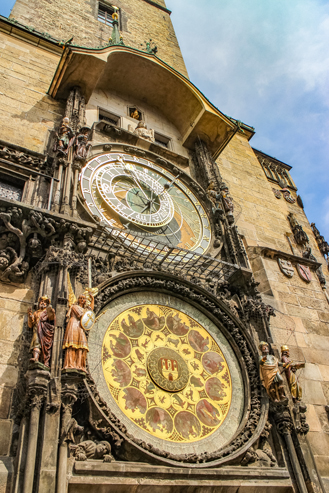 No visit would be complete without exploring the picturesque Prague Old Town. If you have all day, just take your time and wander through the medieval buildings.
If you don't have much time, make sure you visit the Old Town Hall and the iconic Astronomical Clock. Established in 1338, it is now mainly used for ceremonial events. You will find a lot of people gathered around the clock, especially at the hour when it chimes.
If you're anything like me, I fall over myself to find the best views. I am constantly looing up, firstly because there is so much beauty just above our eye line that you don't always notice, but also because I'm scoping out the best vantage points. The lookout gallery offers beautiful views across the Old City Square and Tyn Church.
Since this is the centre of the Old Town you should expect hundreds of tourists and lots of touts.
More information: http://www.prague.eu/en/object/places/188/old-town-hall-with-astronomical-clock-staromestska-radnice-s-orlojem?back=1
2. Drinks with a view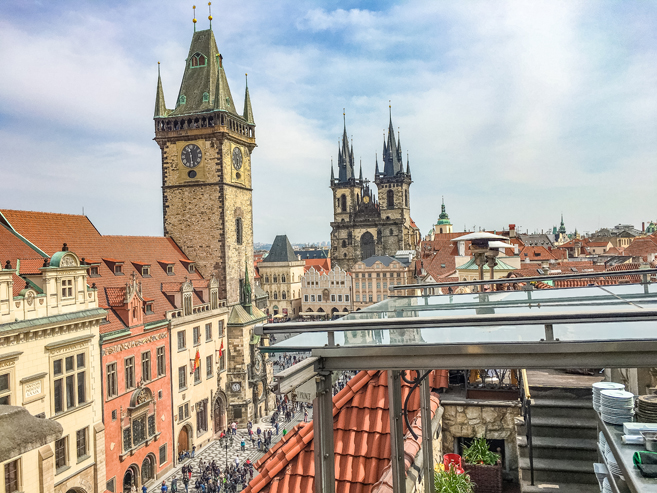 This is one of my favourite spots in the city. Dine or sip a refreshing cocktail on the rooftop terrace of Hotel U Prince which is open everyday 11am-11:30pm. You'll find it just across from the Old Town Hall, so offers fantastic views across the Old Town. They also serve food, but the service is quite slow, not a problem though as it gives you more time to enjoy your surroundings. Sitting up here in the evenings, the sunsets seem to last forever making dinner all the more magical.
More information: https://www.terasauprince.com/terrace
3. Spanish Synagogue, Jewish Museum in Prague
Prague is a city steeped in history, and you would regret not learning about some
Although the Spanish Synagogue built 1868 is the newest synagogue, it is built on the site of the 12th-century Altschul, which was the oldest synagogue in the Prague ghetto.
Heavily influenced by the famous Alhambra the interior is exquisite and the attention to detail mesmerising. There are two permanent exhibitions The History of the Jews in Bohemia and Moravia, Part 2and Synagogue Silver from Bohemia and Moraviawhich if you have time, is time well spent.
More information: https://www.jewishmuseum.cz/en/explore/sites/spanish-synagogue
4. The Old Jewish Cemetery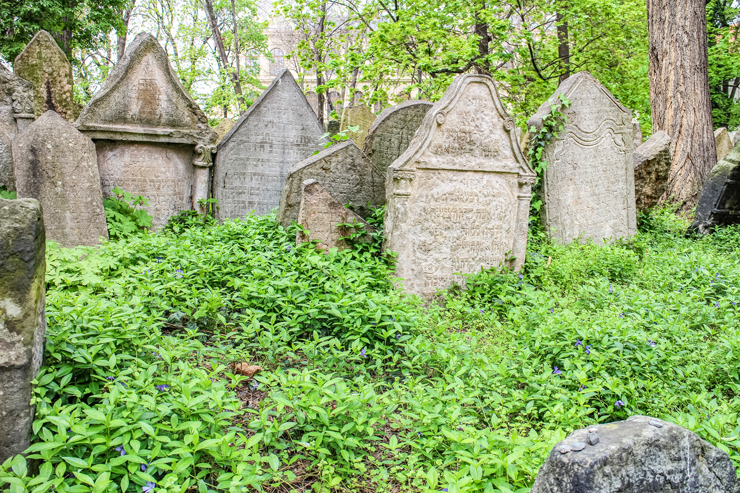 The Old Jewish Cemetery is one of the oldest surviving Jewish burial grounds in the world and one of the important Jewish historical monuments in Prague. Due to limited space bodies were buried on top of each other, explaining the dense jungle on tombstones, and why the surface is raised higher than the surrounding streets. There are an estimated 12,000 tombstones with graves layered up to 10 deep.
It is a sobering and eye opening experience. There are lots of other places to visit in the Jewish Quarter, Josefov. As with all cultural sites, you must respect the cultural significance and solemnity by wearing appropriate clothes that cover the shoulders and men are required to wear a head covering – you can borrow or buy a kippah when entering the Old Jewish Cemetery
More information: https://www.jewishmuseum.cz/en/explore/sites/old-jewish-cemetery/
5. River Cruise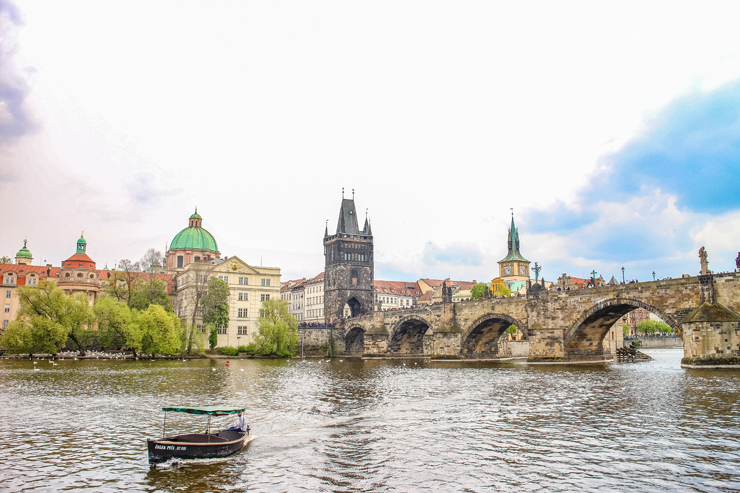 A great way to escape the crowds and take all the sights in from the comfort of your seat is to take a river cruise on the Vltava River. There are options for dinner cruises, wine cruises, jazz cruises – the list is seemingly endless and caters to many different needs and tastes. You will get to drift by some of the famous city sights and get a drastically different view of those legendary bridges. An hour or two on the water is calming and refreshing so you are ready to continue your assault on the city.
I have a weakness for gelato, and Pilir Restaurant by the dock for the river cruise is a great place to stop and enjoy a drink or sundae whilst waiting for your departure time.
More information: http://www.prague-boats.cz
6. Charles bridge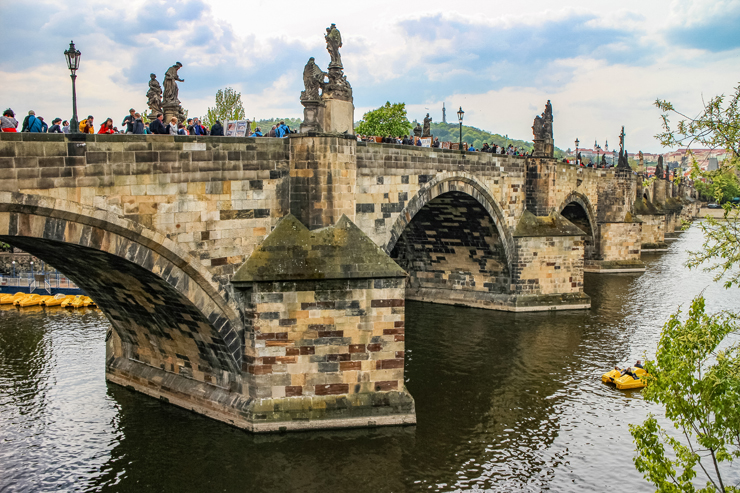 This Gothic stone bridge connecting the Old Town to the Lesser Town is THE iconic landmark of Prague. There are two towers that stand at either end of the bridge that can be climbed for a view over the bridge and town – can you see a theme yet?
During the day there is a constant steam of tourists promenading along the bridge, admiring the views and statues, browsing the pop up stalls and pausing to enjoy the musicians skilfully playing. Although it is touristy, it is definitely worth a visit. Turn up the romance by taking an evening stroll at sunset to admire the warm colours reflecting off the water. However, if you want to catch it without the crowds, set your alarms and visit for sunrise.
7. Make more of your meals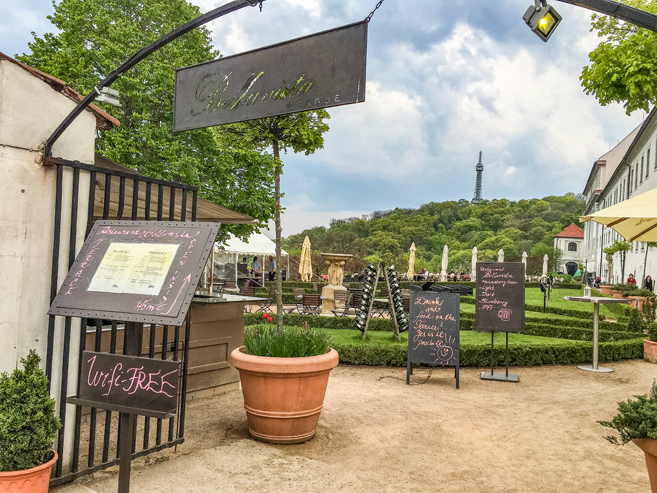 Always seeking out those great views, as I want to make the most of my time in a new city. Look for riverside restaurants or establishments with a view to make meal times a part of the experience. Don't forget to try some of the traditional dishes such as goulash (thick beef stew with dumplings), kolache (small round sweet dough treats) and kremrole (a cream filled pastry).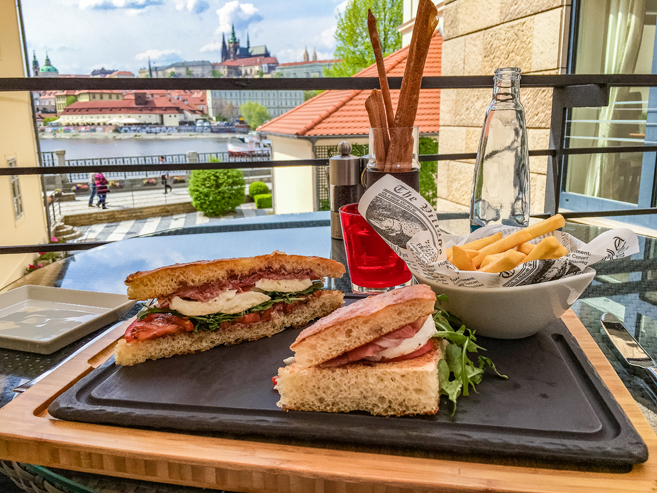 I stopped off at the Four Seasons terrace for a quick lunch before heading to the Charles Bridge.
More information: https://www.fourseasons.com/prague/dining/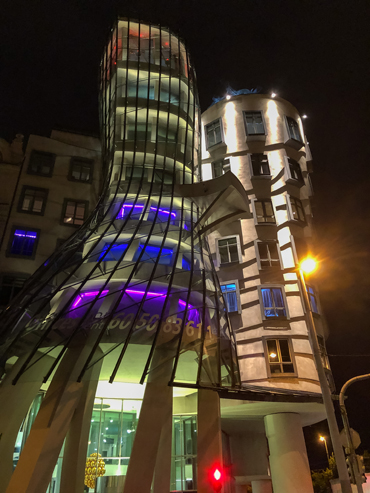 If you're looking for something special we headed to Ginger & Fred Restaurant on the seventh floor of the iconic Dancing House Building with French/International cuisine. Ask for a window seat for stunning views over the Vltava River and Prague Castle. There is also a 360 degree panoramic terrace.
More information: https://www.dancinghousehotel.com/en/restaurant/
8. Prague Castle
No trip to Prague would be complete without visiting most famous historical and cultural monument in Prague: Prague Castle. Since the 9thCentury it has been at the centre of Czech history housing the seat of power though many generations. This UNESCO World Heritage site spans almost 70,000 m² and is cited as the largest historical castle complex in the world by the Guinness Book of Records. You could spend a whole day discovering places such as the Old Royal Palace, St. George's Basilica, Powder Tower, St. Vitus Cathedral and Rosenberg Palace.
9. Letna Park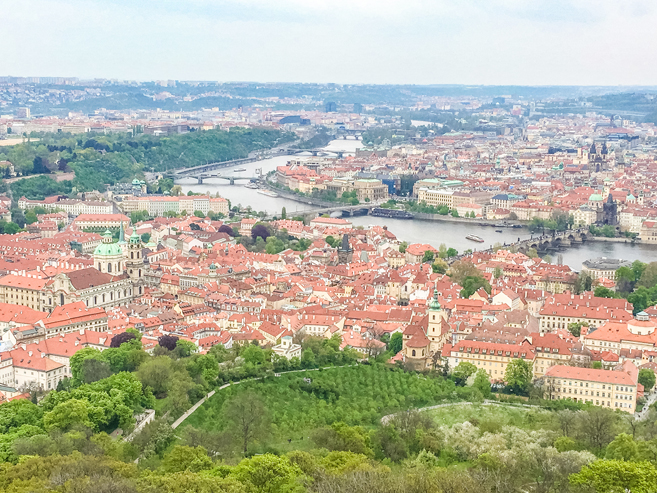 This beautiful hillside park boasts large grassy spaces and a long tree lined avenue. On a balmy afternoon this is the perfect location to sit and relax. From the cast-iron Hanavský Pavilion you can enjoy views overlooking the city and grab a bite to eat from their restaurant. If the weather and season are right you could always bring your own and spread out a blanket for a picturesque picnic.
10. Petrin & Look out tower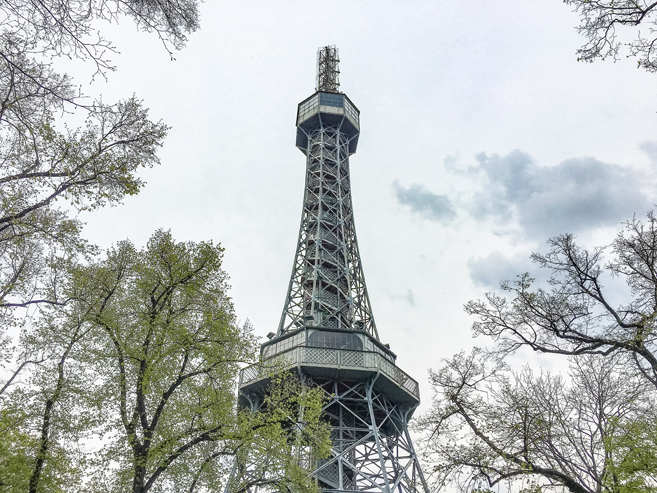 Petřín Lookout Tower was built as part of the Jubilee Exhibition in 1891 and was used as an observation and transmission tower. Although inspired by the Eiffel Tower, it was built in only four months and stands at 63.5 metres high. You can climb the 299 steps to its peak or there is a lift if you are feeling tired by now. The view from the top overlooks the whole city, and on a clear day you can see almost all of Bohemia.
To get to the tower you can walk which would take about half an hour or get the funicular, which is close to the tram stop, and again offers great views of the city and park.
Other honourable mentions:
Absintherie Prague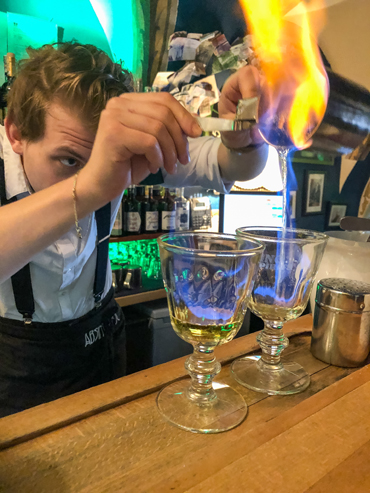 A small bar with lots of character. Not typically what you associate with a day in Prague but a fun stop on your way to the Charles Bridge. Here they stock over 100 kinds of absinthe as well as absinthe cocktails and ice cream. You'll also learn the right way to drink it.
More information: https://www.absintherie.cz/en
Wallenstein Palace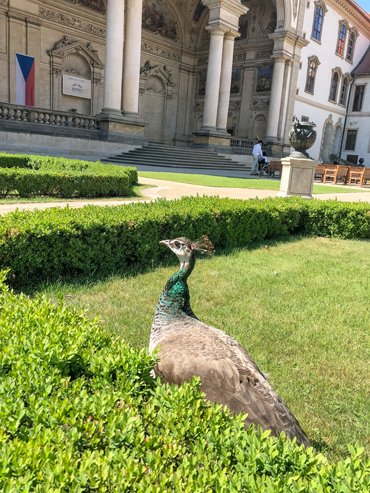 This Baroque garden from 1623 surrounds Wallenstein Palace and is a beautiful place to explore amongst the peacocks, fountains and maze like paths.
More information: https://www.prague.eu/en/object/places/526/wallenstein-garden-valdstejnska-zahrada
I've pinned all the above in this google map to help you plan your route: The World in a Weekend's Guide to Prague.
Last modified: 6th August 2019