When you think of Bali, what comes to mind? Beautiful beaches? Hills steeped in paddy fields and green jungles? Rivers and waterfalls flowing down through the mountains? Exotic birds providing the only noise to break the tranquillity? At Komaneka, you can experience all that and more in just one place.
Tranquillity is quite hard to find in Bali. Tourism is rampant and the scrum of taxi drivers as you exit the airport is your first sign that the island isn't all waterfalls and yoga retreats. Kuta, the area around the airport is a party town that is heaving with bars and cars providing a different soundtrack.
Ubud is an hour and a half north of Kuta and is more renowned for its natural beauty. However, tourism is still in full swing here with hotels, bars and clubs lining the streets and taxi drivers spaced out every 10 yards asking if you need a ride. For our first few nights in Ubud we found a cheap hotel on the strip which was fine but not what we came for. For our last 2 nights, we found what we had been missing.
Located just off the main road in Ubud, a stone's throw away from the busy and bustling Monkey Forest and the bars is Komaneka at Bisma. The first thing we noticed as we walked up to the front desk was how quiet it was. If we had taken a taxi from the airport straight to the hotel and slept on the way, we would have woken up and assumed we were in the middle of a rainforest, not a city.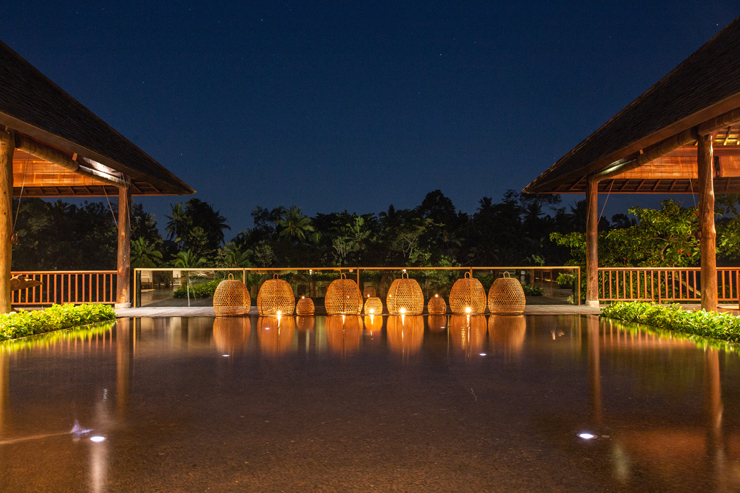 Komaneka at Bisma is situated in a valley which blocks out the hustle and bustle of Ubud behind it and gives incredible views for every room in the hotel.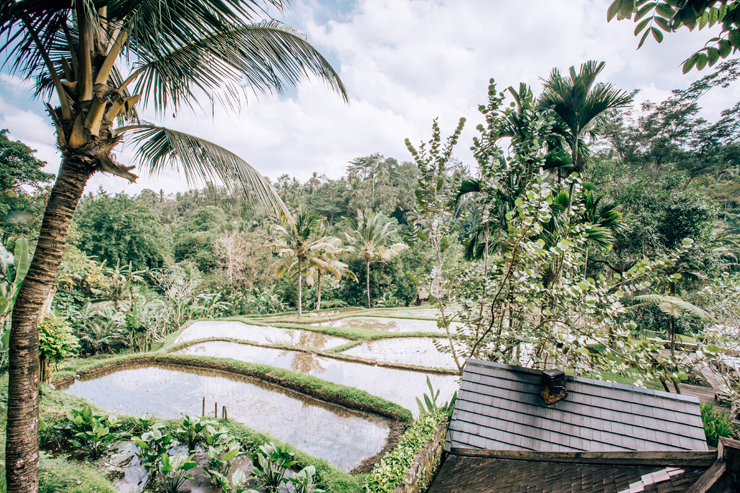 When you stepped out onto the balcony from your room, the luscious green rice terraces stretch out below. Since they are owned by the hotel you can walk among them on a mini trek around the property.
Further down below is a river that flows through the bottom of the valley and provides Komaneka at Bisma with it's beautiful, calming soundtrack.
Opposite Komaneka at Bisma you can see the valley rising back up, affording you spectacular views of the rainforest, which can be enjoyed from your room balcony, restaurant or the incredible infinity pool which overhangs the valley below.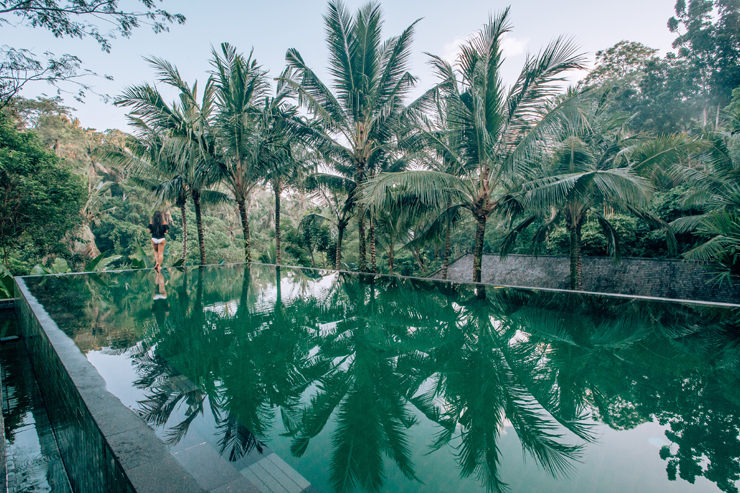 The beautiful rooms are inspired by the local Balinese culture, with a modern twist. Using lots of woods and earthy tones keeps you grounded and surrounded by nature.
With a focus on wellness, the Seneng Kitchen Restaurant features locally sourced ingredients and traditional Indonesian cuisine.
Komaneka is a small chain of Balinese Hotels owned by the Koma family. 'Neka' in Indonesian means 'Art' and the hotels are stacked full of local art pieces, all made by local artists in Bali. Everything in the hotel feels handcrafted and artisanal with bespoke wood cravings and ornaments in every room. Staying at the hotel also gives you free entry to the 'Koma' art museum in Ubud but if you're staying at the hotel you don't really need to go to a museum because you're surrounded by art.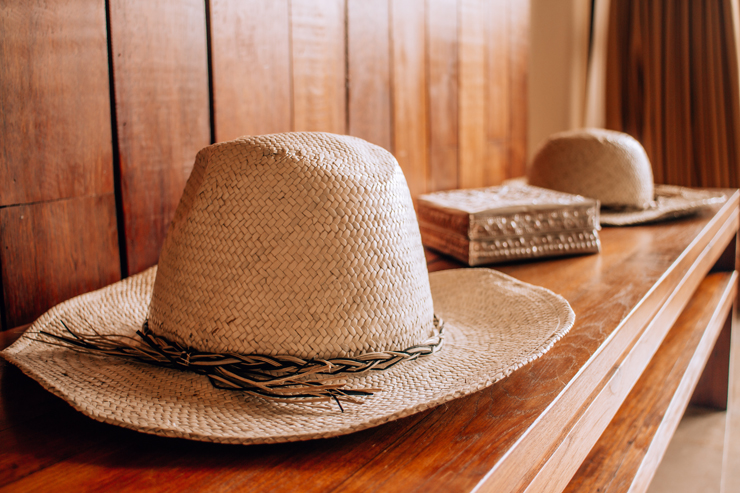 The hotel chain is expanding, and we were lucky enough to get a sneak preview of their latest new venture: Komaneka at Keramas Beach. This is a new hotel just 40 minutes drive from Ubud. The vibe is still very much chilled, but this time the lapping waves replace the jungle soundtrack.
The entire hotel is lined up along a private beach with rooms and villas facing the ocean so beach lovers can wake up to the sight of sunrise over the sea and walk straight out onto the fine white sands of Keramas Beach. 
Whilst there's a lot of nice things to see and do in Bali; Kuta and Ubud are unquestionably beautiful, the sheer volume of tourism often overwhelms it. What we loved about Komaneka at Bisma and Komaneka at Keramas Beach, was that it was the Bali we were searching for: Beautiful, authentic, natural and tranquil… all in one perfect, private paradise.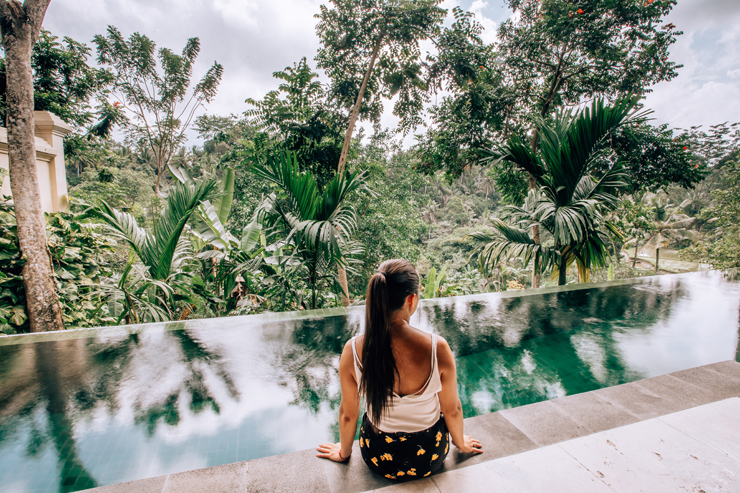 For more information about Komaneka at Bisma and Komaneka at Keramas Beach visit their website here.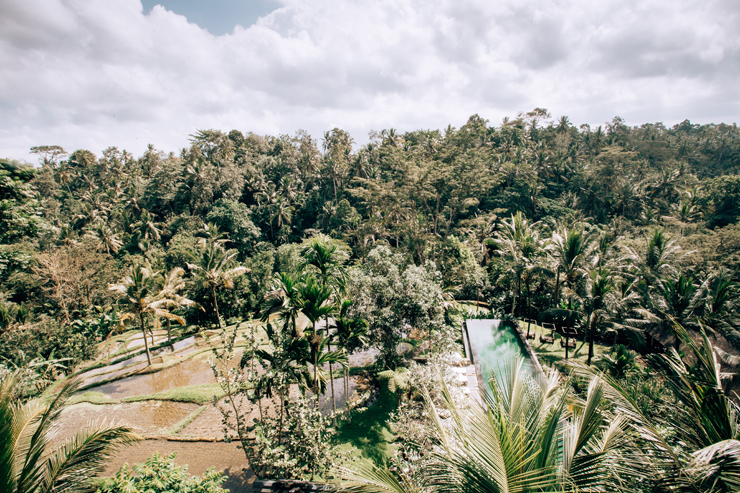 Thank you to Komaneka for hosting our stay, however our opinions are always honest and our own.
Last modified: 21st August 2019