Indochina Junk Dragon Legend Cruise Review
Most importantly – Does the hotel and room do what it's supposed to do?
Yes, Indochina Junk offers luxury cruises around Ha Long Bay and, whilst their cabins are lovely, they are purely there to enable travellers to sleep, go to the toilet and see the amazing scenery. Whilst it's definitely a nice room, the show is definitely happening outside of the bedroom.
How did we rate the experience before we stepped into the room?
The booking also included our transfers from Hanoi in a 'luxury van'. We joked about what a luxury van might be until it turned up at our Hanoi hotel and, yes, it's literally a luxury van. Essentially it is straight out of an episode of 'pimp my ride' where a plumber has had his van kitted out with lazyboy style seats, moody blue electric lights, swanky cup holders and most importantly WiFi.
Our luxury van whisked us to Hon Gai International Harbor in just under 4 hours with stops on the way there to visit an artisanal Vietnamese shop and a water puppet show on our return journey.
Then came the logistical nightmare of getting the right tourists onto the right boats. A tricky task seeing as there were at least five boats all coming in, dropping off and picking up a new batch of passengers for their 1, 2 or 3 day cruises.
Once aboard there was the induction, the itinerary and allocation of rooms to negotiate before we finally got there.
Indochina junk was however living up to its' lofty TripAdvisor status with a pretty fine-tuned operation. The cruise is essentially a 24 hour trip so the crew did an impressive job getting us on-board and settled before the ship reached the first set of limestone islands.
We had heard enough horror stories about tourists being put on the wrong ship that we were definitely happy with our choice.
Does it cover the basic needs?
Yes, and then some… which is important if you're floating around in the sea, since a trip to the local store is definitely off the cards.
Breakfast – All meals included …including two lunches. The food is plentiful and great quality, portions are generous and the service and entertainment make meal times a highlight.
Comfy bed – Check
Decent towels – Check
Fridge – Check although cold drinks are probably best ordered from the bar.
Good pillows – Check
Parking – No… but that's ok.
Safe – Yes
Shower with decent water pressure – Yes but we'd recommend running yourself an indulgent bubble bath to relax in as you watch the bay drift by.
WiFi – No, but you'll be so busy and captivated by the scenery you'll hardly notice.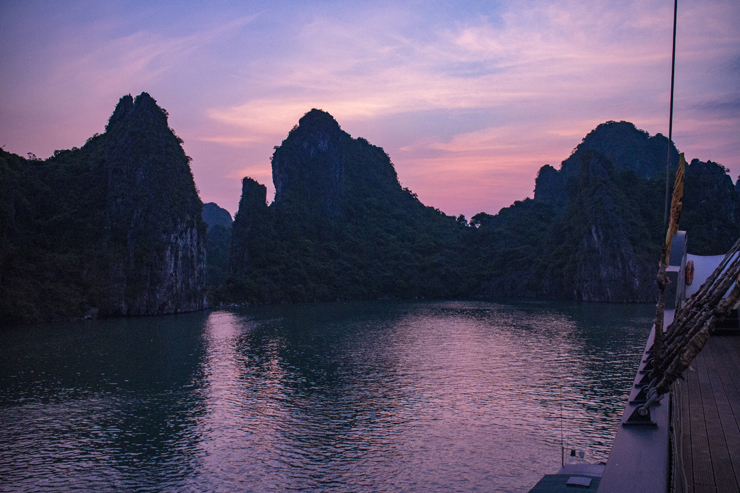 What makes your stay feel special?
You'd think it would be the natural wonder that is Ha Long Bay… but we didn't technical see Ha Long Bay. Indochina Junk's cruises actually go 'off the beaten path' to Bai Tu Long Bay, which spans 75% of Halong Bay World Heritage site.
Why? Because Ha Long Bay is incredibly busy and touristy. Everyday hundreds of ships pour into the area offering travellers a glimpse of the bay… if you can see through all other ships there.
Bai Tu Long Bay is the much quieter and equally beautiful part of the bay which will give you a much better shot at a private part of the bay just to yourself or a chance to take in the amazing scenery without being reminded that everyone else on the planet is there as well.
As there are only 24 (luxury) cabins on board, it never feels over crowded, you never have to queue for anything and you get to meet some lovely people over dinner.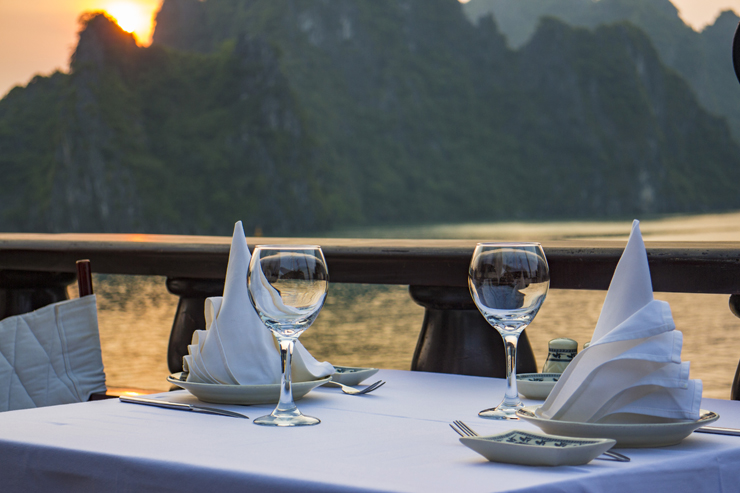 Does the hotel and room make sense?
Generally yes. One thing that doesn't make sense: The sea water option in the bath. Why would anyone do this?
Besides this, the ship is pretty simple in design and the itinerary is pretty tight to make your cruise feel the good kind of busy. The decision to put the bath next to the window looking out at the bay is a little stroke of genius and makes you feel that this company knows what's important and how to make sure you get it.
Hotel food?
The food is certainly a big part of the cruise and the crew seem to like to feed you. The foodie assault starts pretty much as soon as the anchor is raised and the cruise essentially ends with a buffet as you pull back into the marina meaning you eat 4 full meals in under 22 hours.
The food itself? Great quality to match the great quantities. High quality ingredients made into local dishes and keep coming in wave after wave as you delightfully battle your 5, 6 or 7 course meal. They are very good at catering to dietary restrictions as long as you notify them during booking.
Best extras included?
Well, the scenery is definitely the star of the show but the cruise does include some pretty cool extras thrown in. Tandem kayaking through the UNESCO protected geological formations on your way to a private beach is a fun way to start the trip.
The cave tour on the second day is also pretty cool.
However, the real charmers for us were the crew's entertainment offering. Our guides' Vietnamese flute playing after dinner was particularly wonderful and the sunrise Tai Chi class on the top deck before breakfast was delightfully enthralling and surreal.
Biggest issue?
It's a pretty packed schedule so the cruise is a touch light on bonding time with other passengers and just hanging out watching the amazing world go by. Besides that, it's probably just the human cattle market feeling when waiting on land in the 'ship triage'.
However, the ship's crew do a good job of getting to know you, always addressing you by name and making the experience as personal as possible once you're on the ship. The crew's entertainment also adds a nice personal touch to something that, due to the number and the turnover of tourists in Halong Bay, could easily be a formulaic and conveyor belt type experience.
Overall impression
The cruise was the highlight of our trip to Vietnam and potentially South East Asia. You can read more about our adventures in our previous posts, but certainly the ship, crew and facilities helped us have a wonderful time.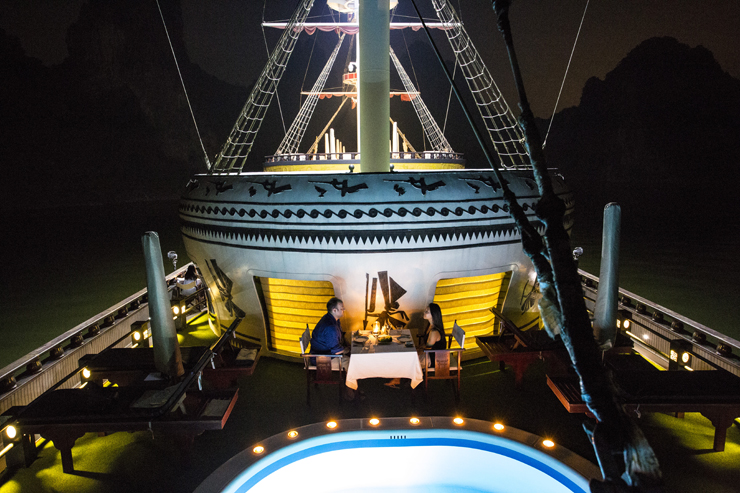 Thank you to Indochina Junk for hosting us in their beautiful Dragon Legend ship, however all our opinions our honest and our own. If you would like more information visit their website.
Last modified: 19th December 2017