After building up an appetite exploring Tallinn Old Town we headed to Ribe, which consistently ranks in the top ten of Estonia's best restaurants.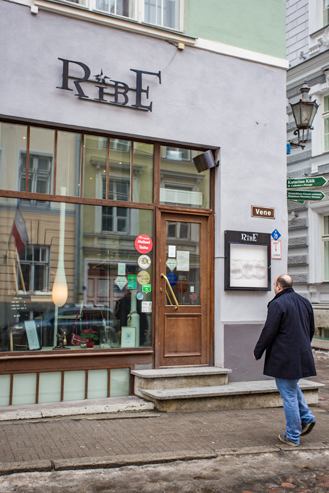 Greeted by a towering wall of wine (how can I install one of these at home?) and an impressive display of corks, we were seated by a large window overlooking the snowy street outside. The stylish grey-flocked chairs, pressed table linen, customised wooden butter knives and monogrammed napkins set the scene for an elegant lunch date.
The restaurant had a fresh and light aesthetic with clean lines and surprising detail highlights such as the glass bauble tea lights suspended from the ceiling and a cutlery chandelier. The water glasses were ridged for grip, which made them very satisfying to hold, like they had been hand blown in two parts.
Another lovely touch were the books left in a basket in the window, covering wines, napkin folding and Estonian cooking. They were great to peruse.
As for the menu, the fresh, seasonal Nordic style dishes use local produce and are prepared using French kitchen techniques.
Tim opted for a lively and fizzy local Bronco cider that was kept in a champagne stand and bucket and poured intermittently. I went with the recommended New Zealand Riesling whose fresh and slightly sweet flavours would pair perfectly with my main.
We started with an amuse bouche of beetroot macaroons with chicken liver pate served on a little bed of rocks. This sounds pretty crazy. Surprisingly the sweetness of the beetroot complemented the smooth and strong tasting liver pate. I'd buy a whole box of them to take with me if I could.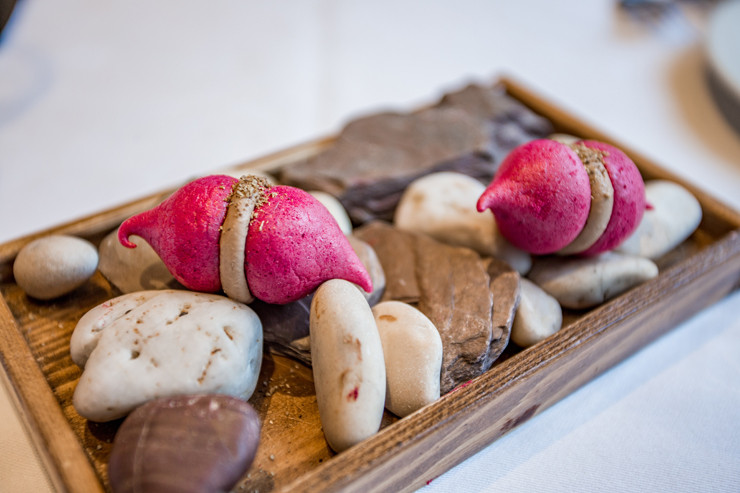 Next came the basket of bread. The Ribe twist on the traditional black bread was the star of this course, laced with nuts and fruit. It reminded me of Christmas pudding.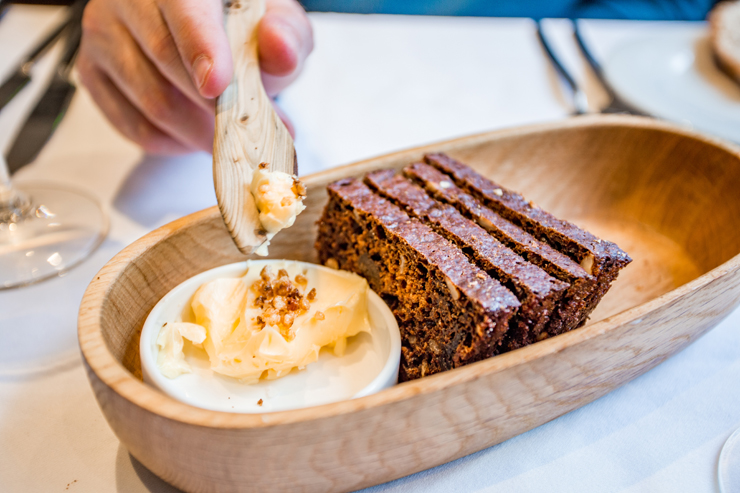 Starters / Eelroad
The mix of textures of the Saaremaa's beef tartare was complemented by the onion-caper cream and fresh flavours of mint, peas and pickles. Each mouthful combination was different as the subtle flavours changed and transformed the taste.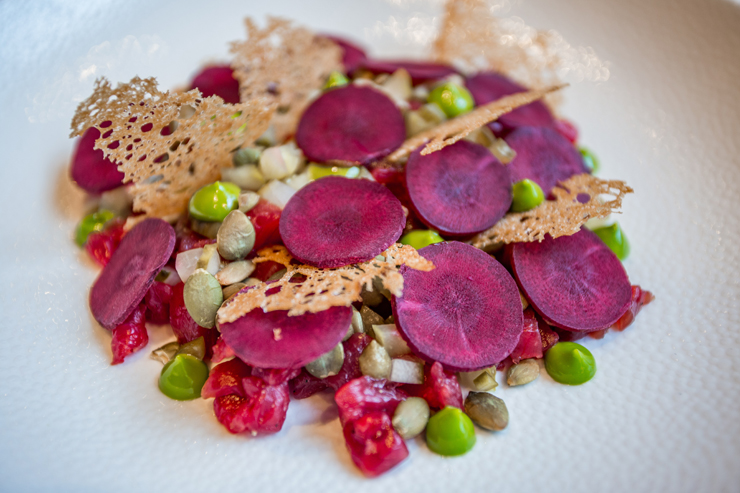 The pan fried fois gras was very refined with a soft butter-like texture. It wasn't until it was amalgamated with the sweet cherry compote and soft brioche that this dish really came alive.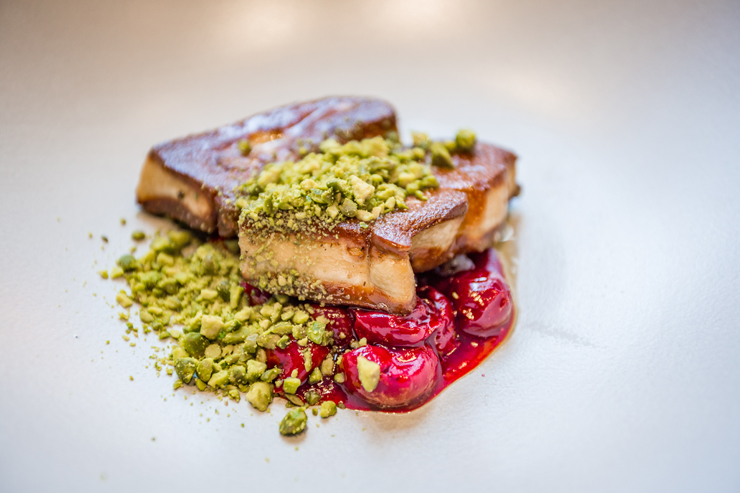 Mains / Pearoad
For mains we chose the partridge with braised chicory, apple and bacon and the roasted venison with chestnut puree, cranberries and chocolate sauce – two dished that sounded like taste extravaganzas.
We were warned to be careful with the partridge, as it was taken down by a bullet. But if you do happen to find it you get a free glass of wine.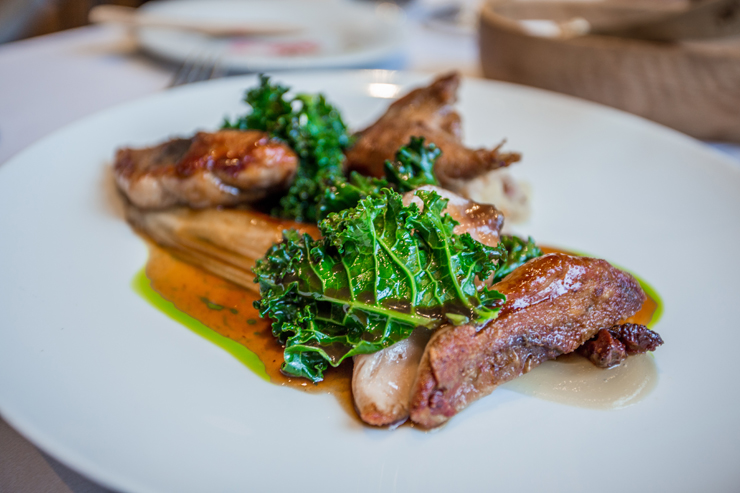 I'd never had partridge before, which is why I was so intrigued. It has such an odd texture, quite tough and dense. I also didn't know that you eat partridge underdone to retain the moisture. The smoked apple chutney and rich gravy added a depth to the dish, whilst the caramelised walnuts (which crumbled in your mouth) and the juicy garlic infused kale introduced delightful textures.
Venison is usually known as a strong tasting meat, but this dish was very light. The combination of the chocolate sauce, chestnut puree and juicy cranberries worked really well to complement the moist venison making it impactful but not overwhelming.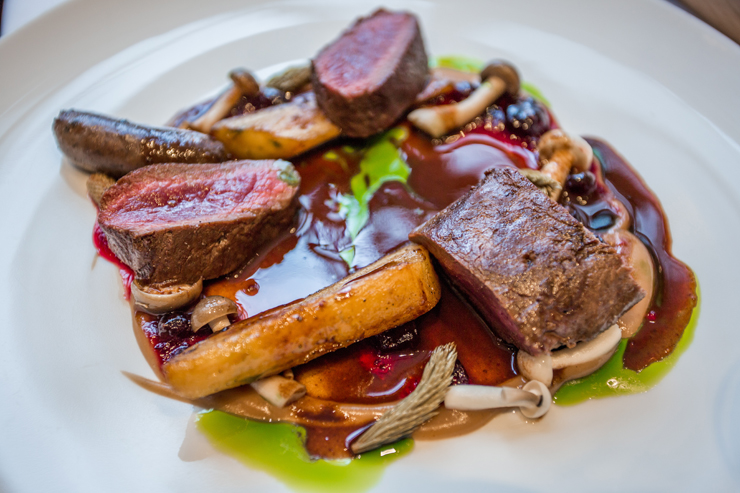 Dessert / Desserdid
For desert we chose to share the rhubarb sorbet, mainly because I am a great fan of sorbets. It was light and refreshingly zingy. The rhubarb and orange hiding beneath were very lively and tart. However we weren't such a fan of the goat milk foam, which was a little salty and suppressed the other flavours.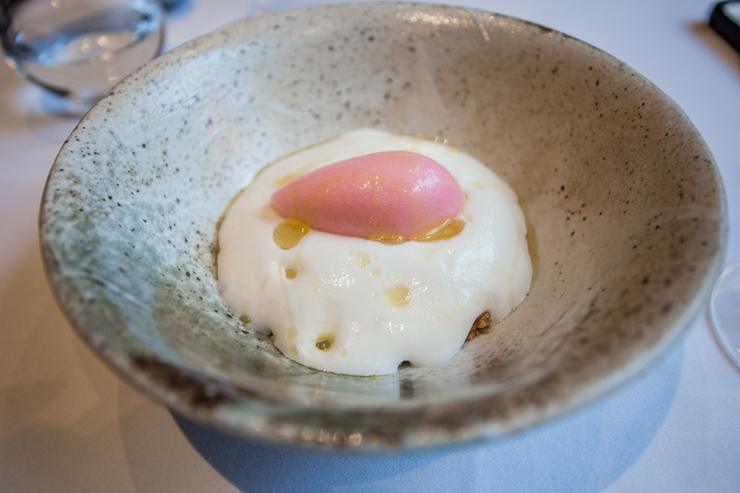 We finished with a shot of traditional Astelpajunaps (sea-buckthorn schnapps) that was firm but not too overpowering for a liqueur. A great way to end the meal.
If you would like to find out more or make a reservation at Ribe, visit their website here.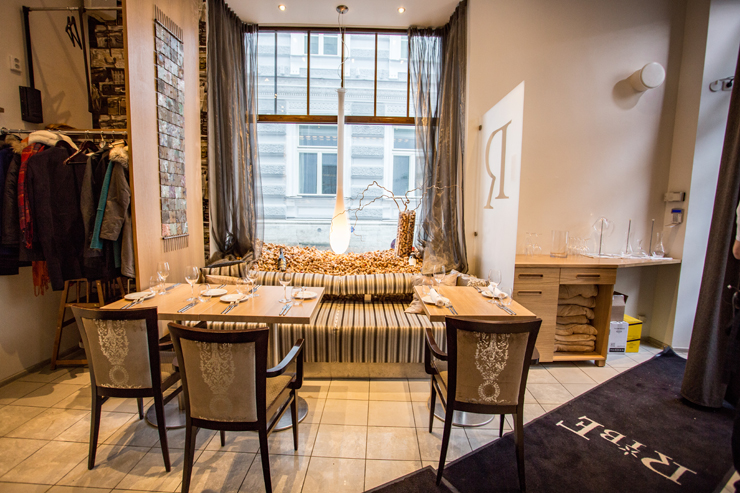 Thank you to Ribe for hosting our visit, however our opinions are always honest and our own.
Last modified: 26th March 2018